80 days to summit all Alpine peaks over 4000m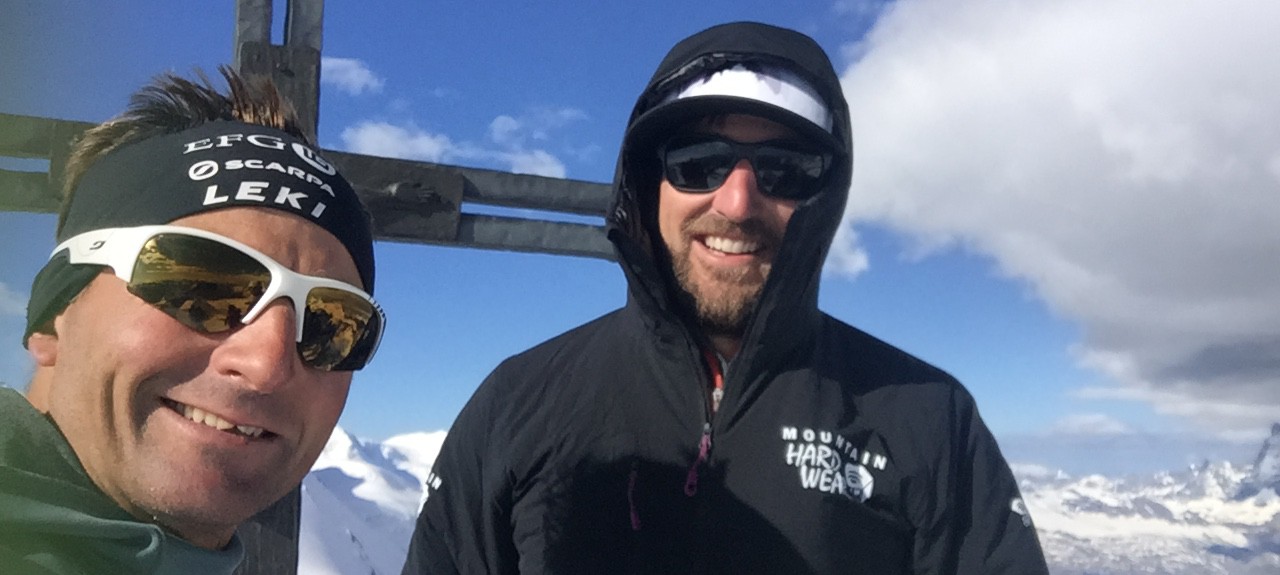 82summits is the adventurous and ambitious project of Alpinist Ueli Steck from Ringgenberg (Switzerland) and his rope-partner Michael Wohlleben from Heilbronn (Germany). In one summer, the pair want to summit all mountains in the Alps over 4000m high – that's 82 peaks, spread over Switzerland, Italy and France. What's more, they plan to cover the distance between mountains using muscle-power alone.
When Ueli Steck and Michael Wohlleben start their project 82summits in mid-June, it isn't about breaking records, but rather about adventure and their sheer love of mountaineering. Climbing, walking, running and flying. It's the journey, not the destination that counts.
38 year-old Ueli Steck from the Bernese Oberland is regarded as one of the world's best solo climbers and mountaineers. In over 25 years, he's gained experience in varied disciplines in alpinism. He'll be accompanied by the 24 year-old professional alpinist and sport-climber from Southern Germany, Michael Wohlleben. In a maximum of 80 days – that means before the end of August – they want to summit all Alpine peaks over 4000m together. They want to climb 82 peaks, spread over Switzerland, Italy and France. That's a total of around 100,000 vertical metres.
With 82summits Ueli Steck and Michael Wohlleben are, on the one hand, searching for a mountaineering challenge where time isn't the main factor, instead aiming to find the most exciting routes. On the other hand, the project is also an enormous athletic undertaking. During the tour through the Alps, the two Alpinists will use neither motorised vehicles, nor trains or cableways. The distances between the mountains will be covered by bike, on foot, or, when possible, by paragliding. By bike alone, they will cover around 1,000 kilometres during the 80 days.
Steck and Wohlleben will begin the 82summits in Switzerland, with the most easterly 4000m peak, Piz Bernina, and will then move west, towards the Bernese and Valais Alps, the Mont Blanc massif, Gran Paradiso and finally to the Ecrins massif in France.
Daniel Mader from Heimberg (Switzerland) is in charge of logistical support for the two athletes. He's also responsible for the live images and communication with the outside world. Robert Bösch will document the 82summits in photographs. The outdoor and action photographer from Switzerland has, like Daniel Mader, already accompanied Ueli Steck on many of his extreme tours.
Extensive content management for 82summits
samcam film gmbh from Thun is responsible for the cinematic coverage of 82summits, which includes shooting aerial Cineflex images. The team from simpel&co is responsible for ensuring extensive content management throughout the project. simpel&co is part of samcam film gmbh and provides creative concepts and professional implementation in all aspects of communications in text, image and sound.
simpel&co will create the website www.82summits.com. In addition, the social media channels Facebook, Twitter and Instagram will be continually updated with reports of current events during the two and a half months. Real-time communication is the requirement and also the big challenge for the whole team involved with 82summits.
UELI STECK
Ueli Steck, born in 1976 in Langnau, Emmental started climbing aged twelve and first climbed the Eiger North Face aged eighteen. Since then, he's been gripped with enthusiasm for alpinism. After repeating classic alpine routes – even in winter or alone – he developed new routes, such as "The Young Spider" or "Paciencia", up the Eiger's North Face. He also completed first ascents in Alaska and on the Pumori in Nepal and the Gasherbrum II in Pakistan. In the Himalayas, Ueli Steck has climbed Everest without oxygen and Annapurna's South Face along a new route. The latter was also the sixth Himalayan peak of over 8000m that Ueli Steck has summited.
Book your first 4000m peaks here.
Dieser Post ist auch verfügbar auf: German
---