From the sky onto your back –
Old, used paragliders don't have to be thrown away anymore. In Saas-Fee, two outdoor enthusiasts are turning them into high-quality touring backpacks – while creating sought-after off-season jobs in a place that is dominated by tourism. www.berghilfe.ch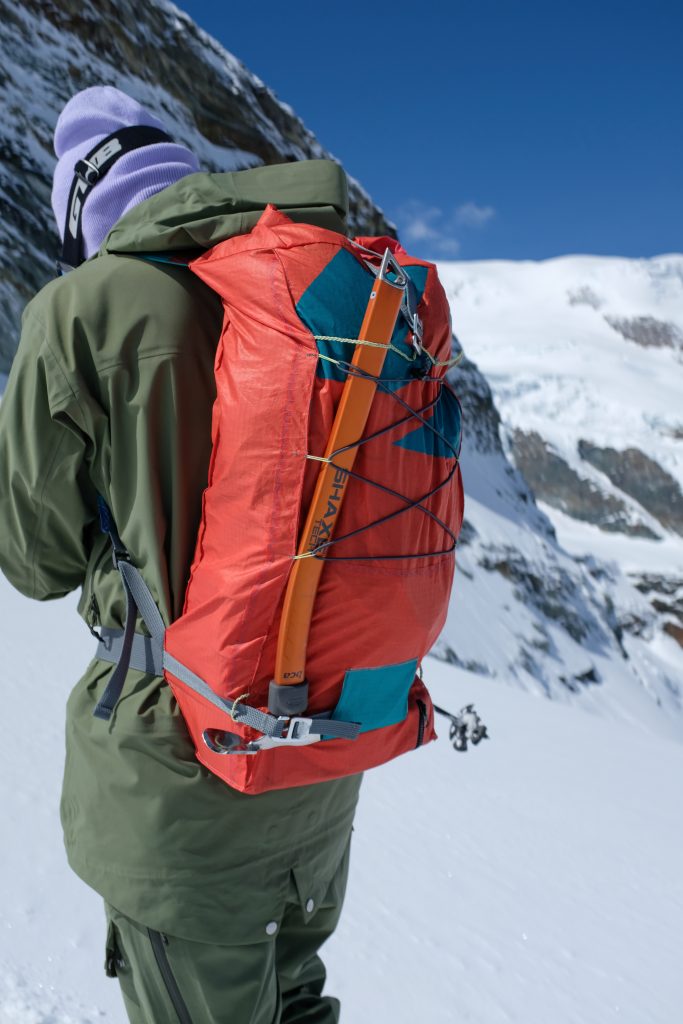 Why aren't there enough sustainable outdoor brands already?
This is the question posed on Schwarzberg's homepage. The answer?
Did you know that the textile industry is practically the most polluting industry of all? A lot of brands use sustainable or recycled materials in their production. But it still requires energy and resources to recycle raw materials and turn them into new materials. We try to reuse materials that have already been made but can no longer be used for their original purpose. Doing it this way extends the life of the materials while minimizing waste and the need to make new materials. You have to bear in mind that the best way to recycle is to reuse and upcycle because it sometimes takes more energy and resources to recycle a piece of paper than to cut down a whole tree.
We think that making touring backpacks out of paragliders is a brilliant idea that deserves attention, which is another reason I didn't hesitate when asked to write this blog post.
But how do you come up with an idea like this? And how do you then put it into action? The idea of touring backpacks sort of came about by accident. Janine, who moved to Saas-Fee because of her love of the mountains, met Ivan and they came up with this idea togetherIvan, a keen ski instructor and kitesurfer, had been sitting on the idea of making backpacks from umbrellas for a while. He thought the material would be perfect, but didn't have the skills required to make the backpack himself. Janine, who had actually given up a career in the textile industry to move to the mountains, immediately saw great potential in this idea, so she made the first touring backpack for Ivan using a paraglider. The first 'test version' was closely followed by 3 more prototypes. It soon became clear to both of them that the 4 prototypes wouldn't be the end of it, and Janine started to make the first series of touring backpacks in her own home. Nothing changed in terms of production: the product would continue to be made in an environmentally friendly and sustainable way, giving paragliders a second life.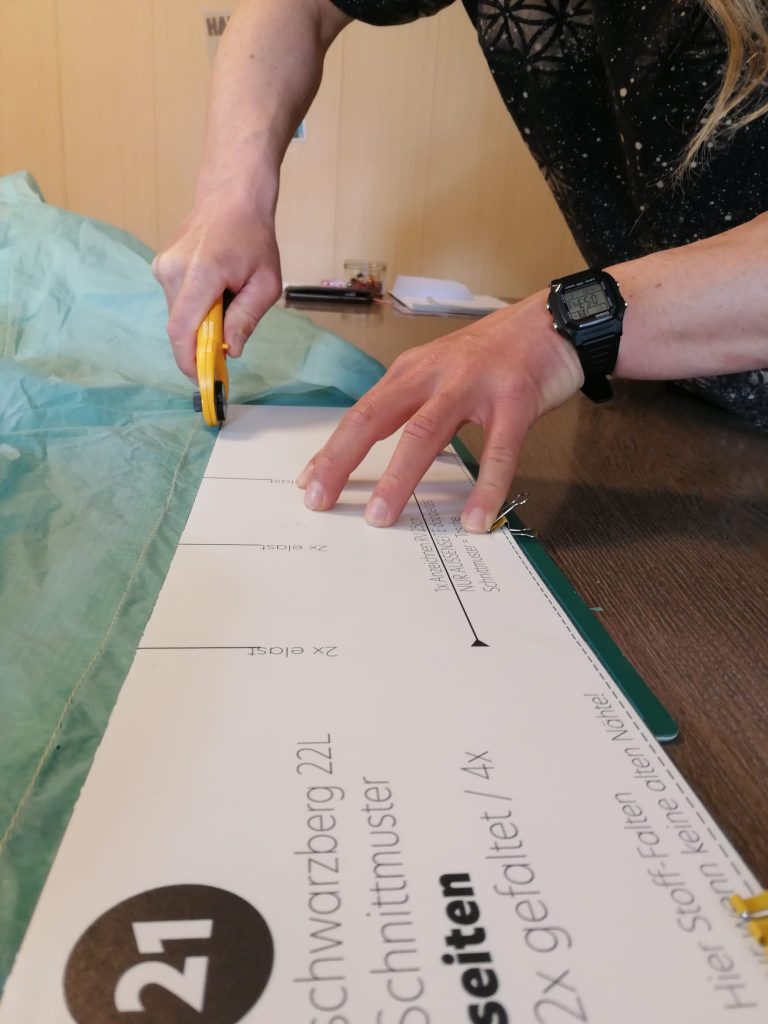 Saas Valley is also the perfect place for the pair to turn their idea into a business as sustainability is a top priority in the region. And they didn't hesitate when it came to starting production. Ivan's connections on the paragliding scene soon gave the two of them enough new material to start initial series production and sell them online on a website they created themselves. When it came to finding old paragliders, they were both very surprised at how many people had unusable paragliders lying around – at one point, they even had to stop accepting them as they had too many!
The thing that customers appreciate most about the product is its sustainability, and the material, which makes the backpacks very light yet extremely durable. Janine and Ivan were able to personally test this over the past year, using the prototypes for ski and snowboard tours and climbing tours – including the Weissmies climbing tour, which you can read about in our previous blog post. If you buy a backpack from Schwarzberg, you can be sure that the product you've bought won't be available again. People on the mountain scene are aware of climate change and the impact it has on nature, so customers are happy to support an upcycling product like this one.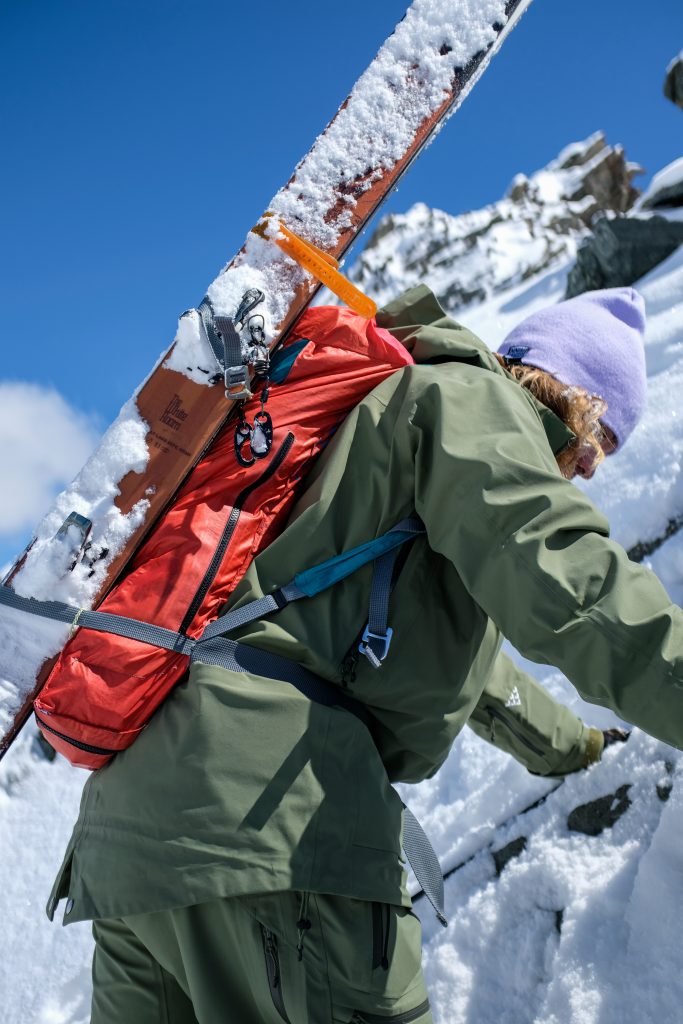 One thing is clear – sustainability is becoming increasingly important, which is why this kind of production process just makes sense. But how do you beat large corporations? It's not necessarily about going up against big corporations, Janine says. Instead, it's about offering a more sustainable alternative for those looking for something special that's kind to the planet. Thanks to constant feedback from customers, the pair have been able to continuously work on new ideas, which is how spin-off products like the belt bags and small 'material bags' came about.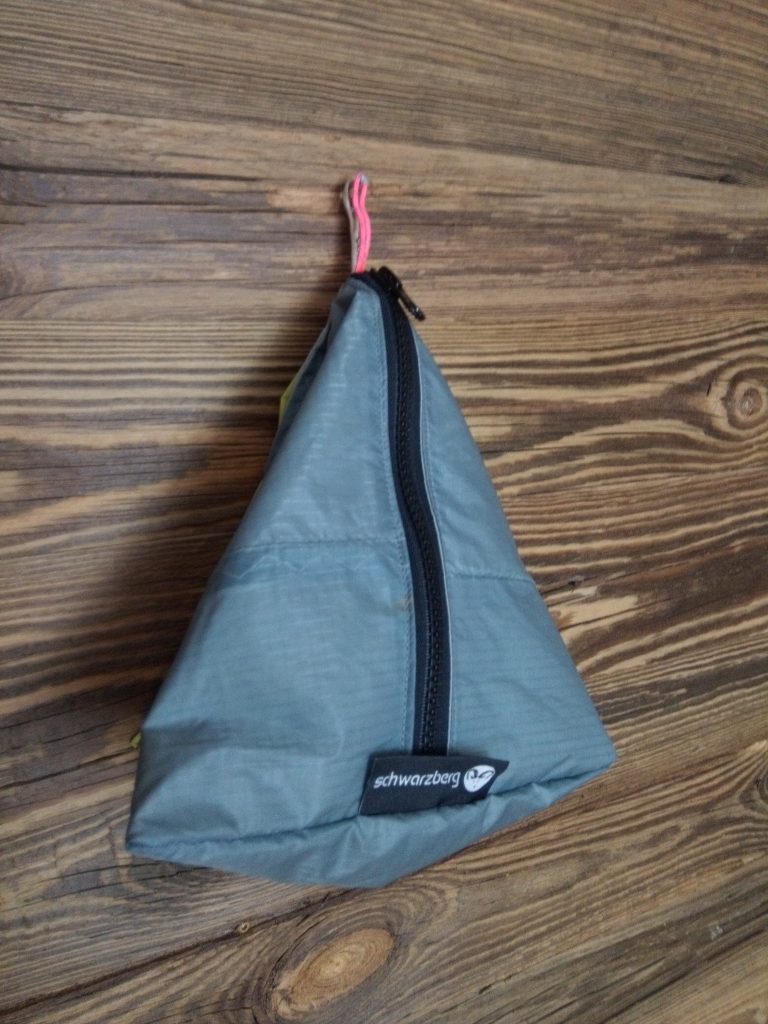 The backpack itself is also constantly being tweaked to offer customers the absolute best, so the latest Hagen model has stronger material in the bottom part of the backpack to protect against sharp touring shovel tips, and you can also attach a hydration bladder to the inside. The product aims to be completely sustainable so that the backpacks aren't simply thrown away if there's a bit of damage. So it's not a problem if something breaks, just send the backpack back to Schwarzberg and Janine and Ivan will be happy to repair the damage. They now have their own small workspace in an apartment in Saas-Grund. They cut, sew and take photos of products in the two rooms there.
In terms of future company growth, they are still looking for extra employees in production to meet customer demand. Still, Janine and Ivan have already enjoyed much success and will continue to build on what they have achieved in the name of sustainability and for our planet.