My father was a mountain guide here in Saas-Fee, and so was my grandfather. They guided adventure seekers up the towering mountains of the Saas Valley – eighteen of which reach heights of over 4,000 meters with thirteen surrounding the town itself. I think these mountains must have called to them, as they do to me, to venture up, to see life from a different angle, and to experience the awe and wonder of being mortal in the face of such greatness. So, when I heard about the new via ferrata from Britannia Hut to Hinter Allalin, I couldn't wait to get up there.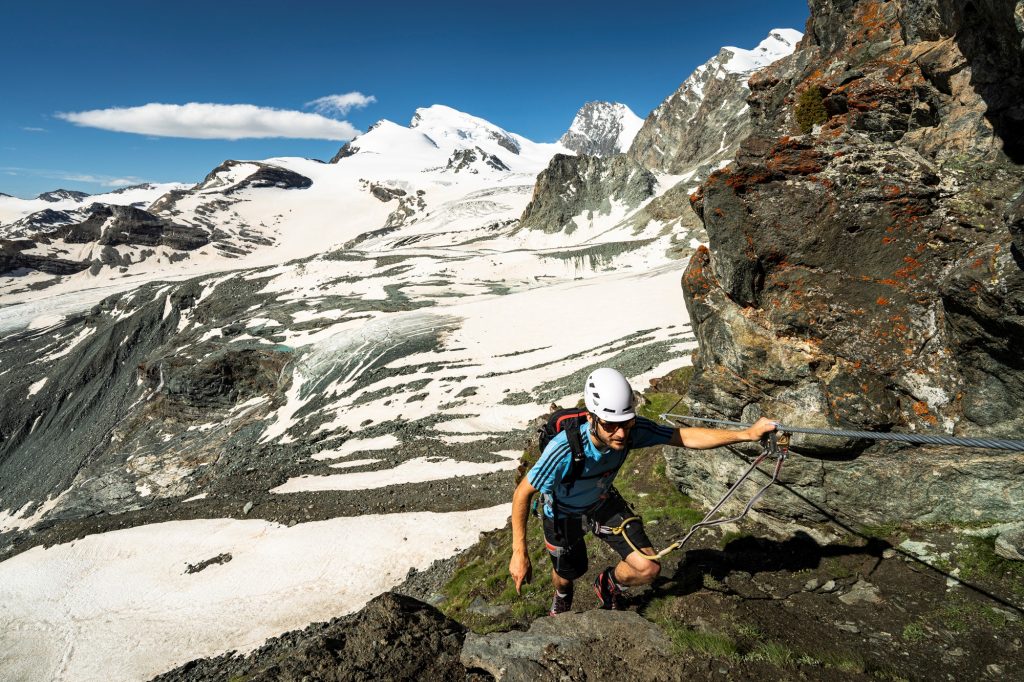 Familiar Territory
I knew this trip would take me back to a couple of 4,000ers that I'm particularly fond of. Strahlhorn and Rimpfischorn can't be seen from the valley or resort, but they are spectacular. I make a point of getting out to them whenever I have the chance, splitboarding up or around them in winter or hiking their local trails in summer. As well as views of these two giants, I knew I would have a close look at Allalinhorn from the side. This is one of those peaks that presents a majestic backdrop to Saas-Fee every day. But, it also offers spectacular views from other angles.
The Adventure Begins
So, I recruited a couple of friends, and on a day with good weather, we hopped on the 7 am Felskinn gondola, all smiles and ready to climb. From Felskinn, we hiked about forty minutes to get to the Britannia Hut, where a local Ibex was waiting with morning greetings. These majestic long-horned goats are often spotted near the Britannia Hut, and chances are good you'll see them there in the mornings or evenings. Master climbers who thrive in high places, I have watched them race down cliffs in a way that I could only imagine doing with three meters of fresh powder under my snowboard.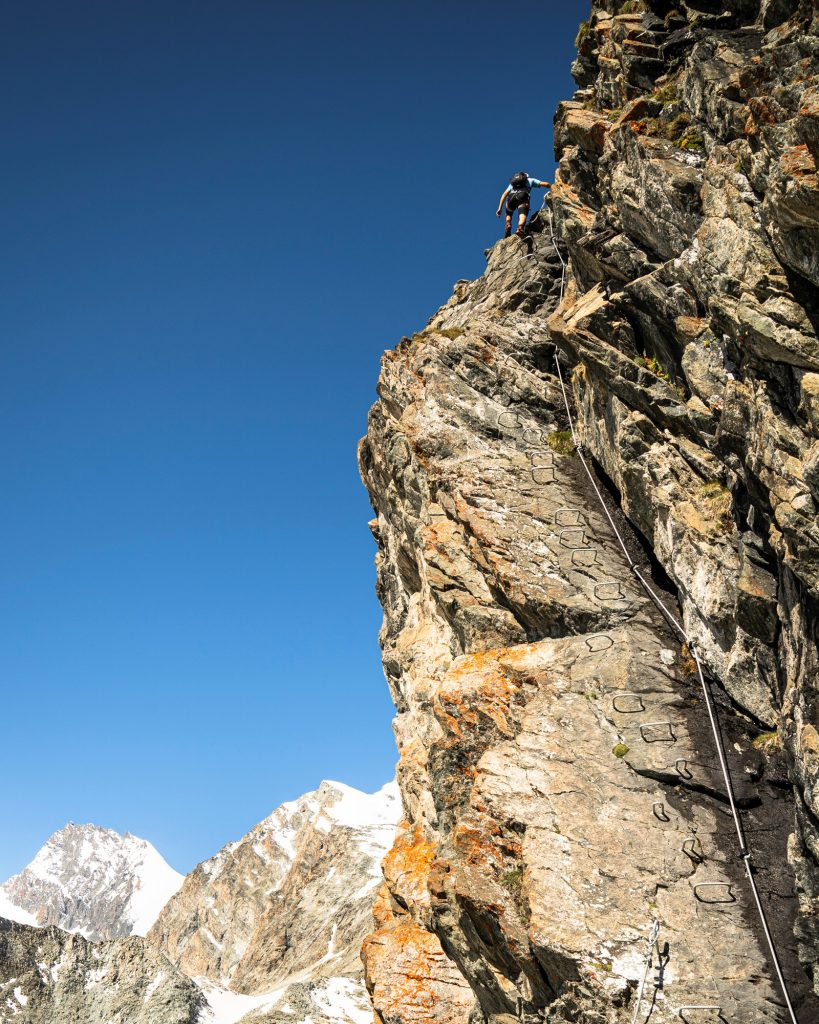 Getting Up There
After reaching Britannia Hut, we headed out in the direction of Glacier Trail, but instead of taking it, we took the fork on the right to access the via ferrata. I had considered that this might be a cool adventure to do with my 6-year-old son. Upon clipping in, however, I discovered the first section to be quite steep with handholds that would have exceeded his reach. Naturally, this height requirement should be considered if taking juniors with you.
What followed next were a series of flats and rises, a nice balance of strenuous climbing mixed with places to relax a bit and appreciate the surrounding beauty. A mellow incline led us to a view of the Glacier Trail as well as a series of my favorite splitboard routes above it. A long vertical stretch boasted an impressive mountain vista with Rimpfischorn jutting into the skyline.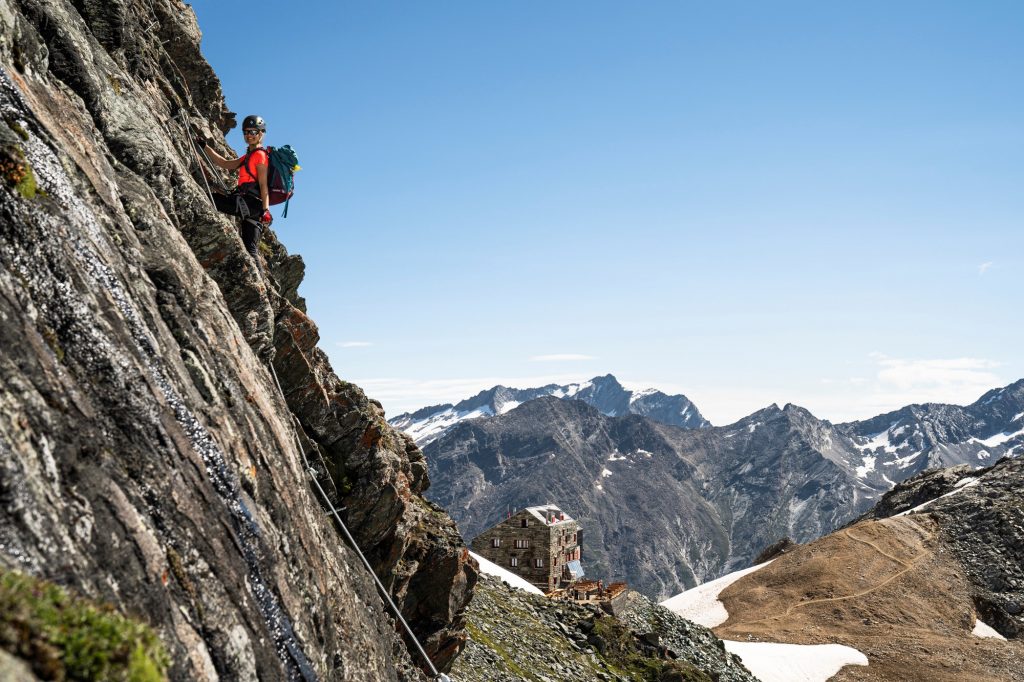 Following this, the path turned and traversed slightly, bringing us back in sight of Britannia Hut sitting strong and steady in the distance. The handholds in the climbing sections were solid, and I appreciated that the route utilized some of the natural rock formations for foot and handholds. Some of the lofty sections were taxing but not difficult. It was nice to have several flatter portions sprinkled into the mix.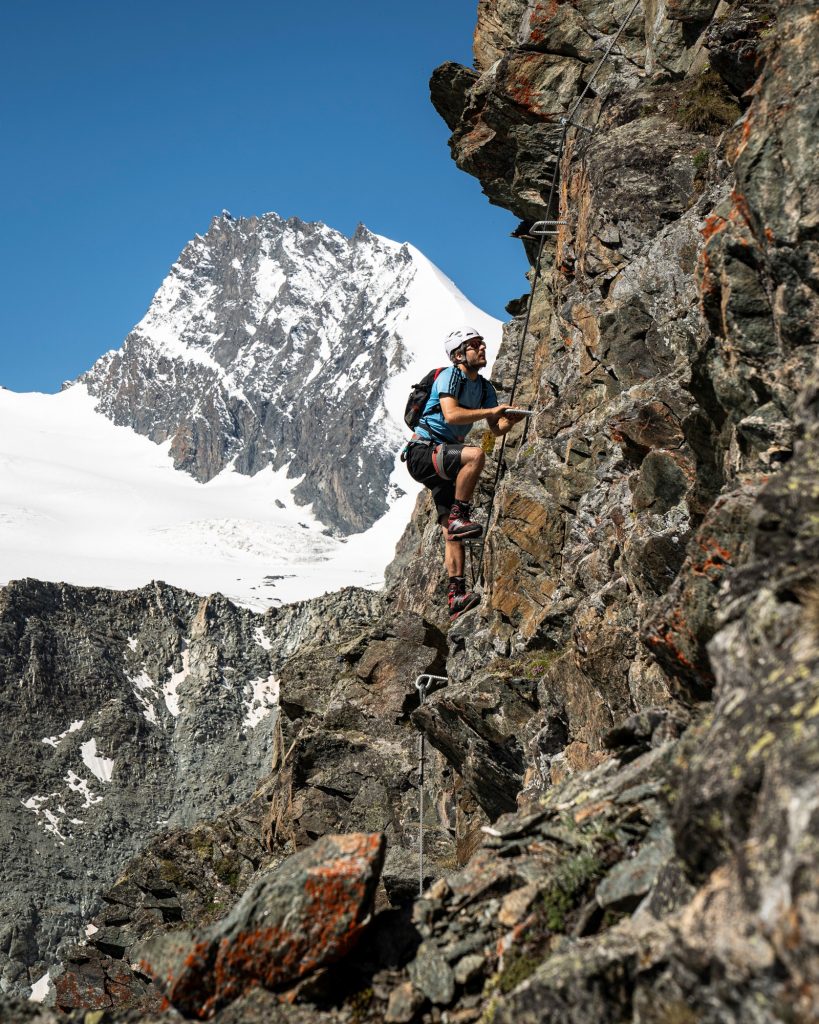 When we arrived at the top, we chilled for a bit to take in everything around us. I knew the views would be amazing up there. Because of the elevation, the mountains surrounding Saas-Fee remain white all year long, creating the ideal frame for any photo. From points in the journey you can even see Mattmark Lake in the distance below. These views are world class. I would even argue that this is the Saas-Valley's most scenic via ferrata.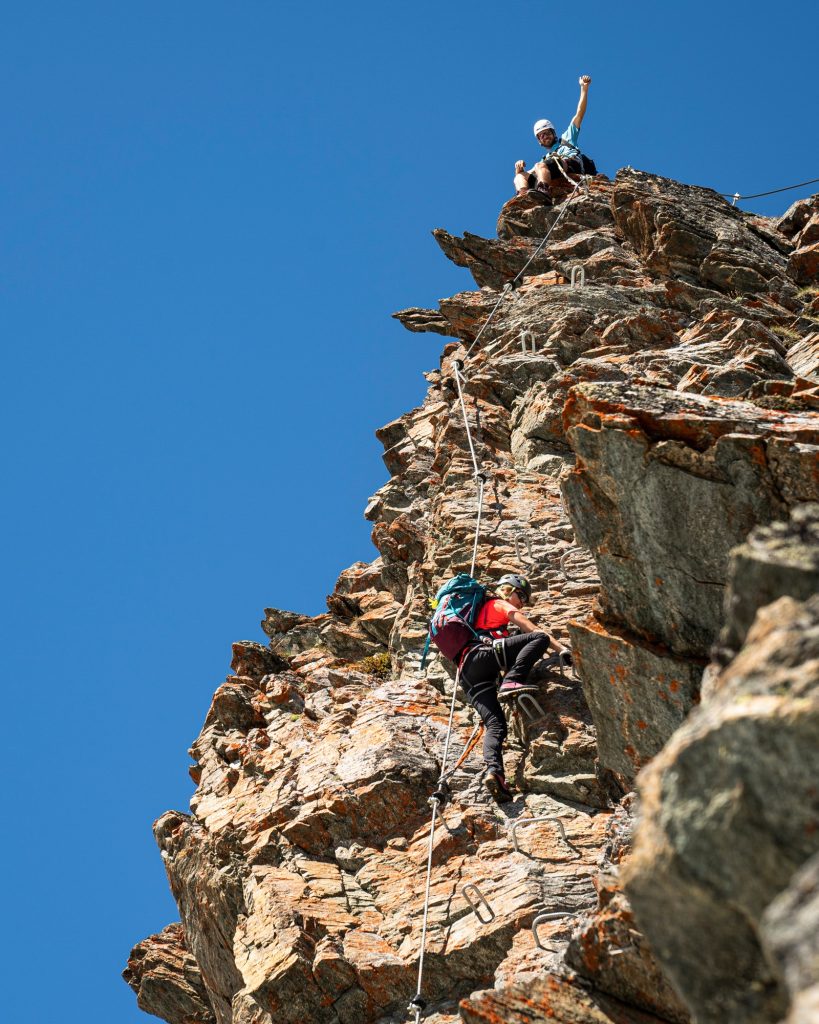 A Smooth Journey Home
Recharged and ready to return, we started the descent that would loop back to the Britannia Hut. Here I had yet another welcome surprise. With many such trails the down climb can be brutal, full of tall steps that make your knees ache or long and steep sections that require careful navigation. However, unlike other via ferratas in the Saas Valley, such as the Jegihorn, Mischabel Hut, or Mittaghorn, this descent was gradual with a steady decline – yet another part of what makes this journey so sweet. Finally, we reached the hut where Dario and his crew welcomed us with a mouth-watering Fondue Rösti.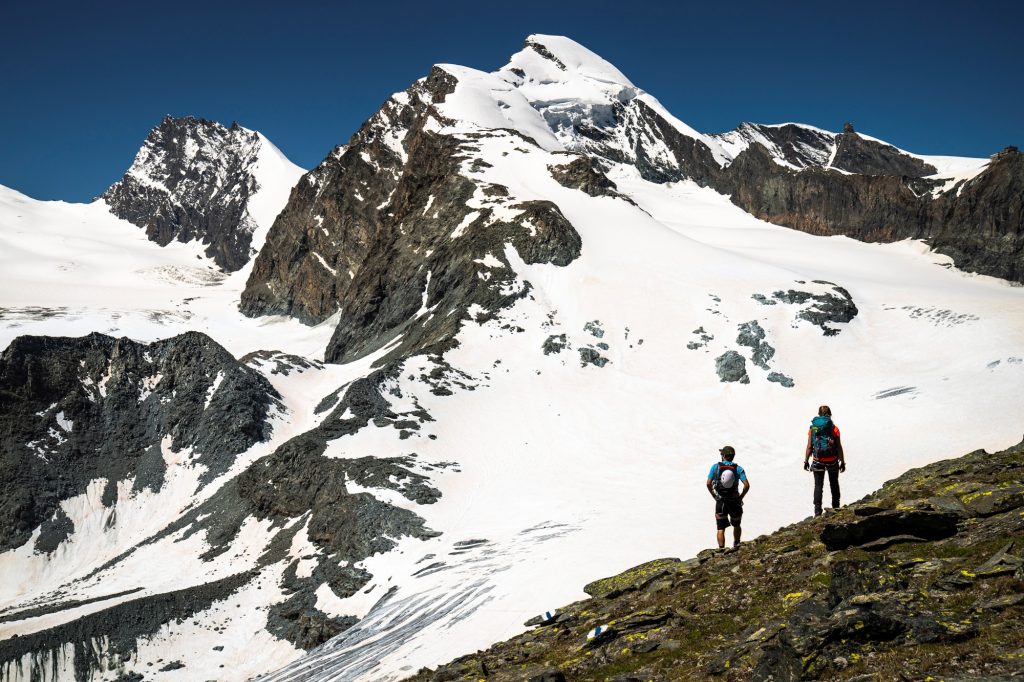 A Must-Do in the Saas-Valley
Based on my experience, I highly recommend a trip to the Hinter Allalin Via Ferrata. Even before the trail's opening, Britannia Hut offered the area so much as a base for peak summits and winter ski touring. With the addition of this incredible via ferrata, it really is time to get up and out there!
Time Requirements
The trail marker advised it would take us two hours and forty-five minutes, but in reality, we took about 45 minutes less than that, allowing ample time to enjoy the views. We weren't overly exhausted at the end but rather energized by the breathtaking scenery. You could easily go on this adventure in the morning and make it back to the hut in time for lunch.