Sport climbing might not be the first thing that comes to mind when someone thinks of Saas-Fee/Saastal, unless it's one of our fantastic Via Ferratas. But you don't have to venture up to a 3,000 meter peak for a good climb. Right along the Saas Valley floor, we have 10 solid spots. Let me tell you about 4 of my favorites, 1 in each of the Saas'. From baby beginners to advanced experts, the Saas Valley offers a range of spots for everyone, often with breathtaking views.
Feechi, Saas-Grund
In Saas-Grund, at the bottom of the Kapellenweg and just west of the camp ground, you will find Feechi. This spot is ideal for families and has really easy access, both with a car or the bus. With more than 30 routes spanning various levels, Feechi is the largest climbing spot in the Saas Valley and has something for everyone.
From April to November Feechi is a quick and easy spot to get on the rock. Just next to the river, there is a small sandy bank where kids can play, though on occasions the river is very full, so you want to pay attention. In the height of summer, Feechi has full sun from 12-3 PM, but in the morning or afternoon it's shaded. Sometimes on days when the weather is poor up higher in Saas-Fee, just dropping these 200 meters down to Saas-Grund will offer you better conditions, suitable enough for climbing.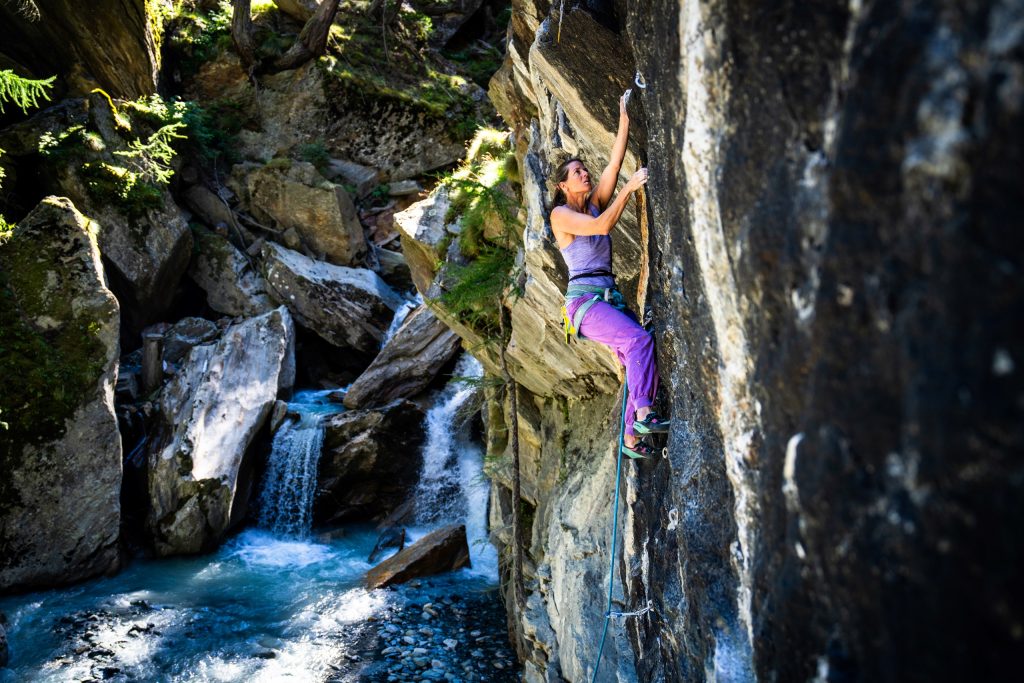 Zur Kapelle, Saas-Fee
This is probably the most well known climbing spot in the Saas Valley, and with good reason. It's an easy 10 minute walk down from the parking lot, just next to the small chapel. With majestic views of Allalin, Alphubel and the Saas-Fee Panorama bridge framed by the gorge, you will also find a picnic table and bbq spot. There are 8 different routes spanning from 4a to 7a, making it a great place for families with kids who like to climb. Seen here are my 8 year old son and 11 year old nephew, having a blast.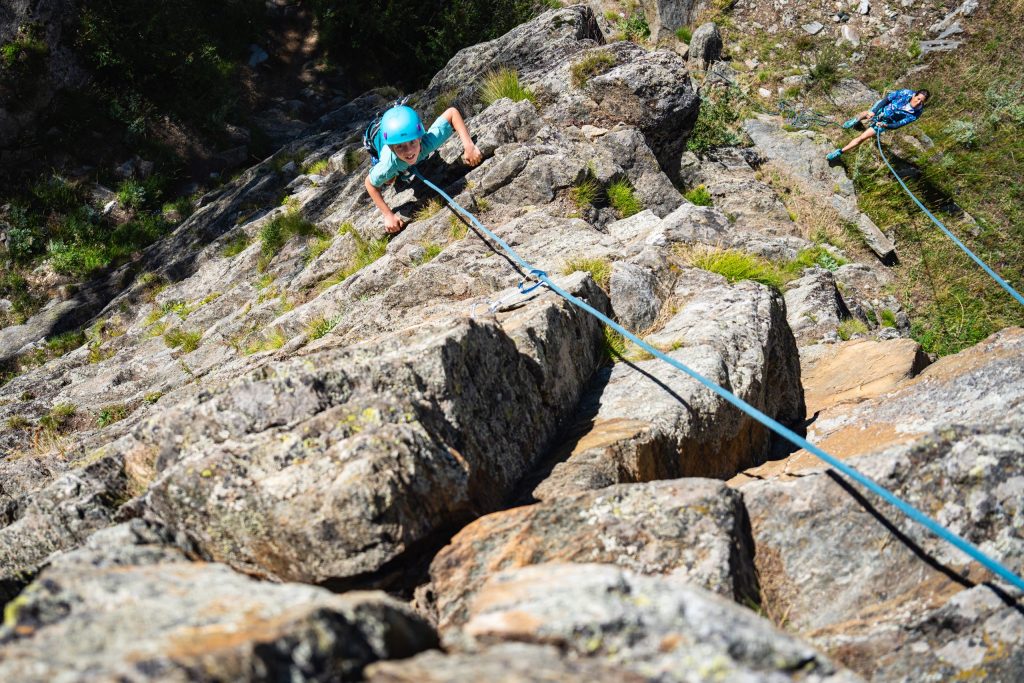 Saas-Almagell, Furggstalden
Just at the start of the Adventure Trail is a climbing area with multiple possibilities and a spectacular view of the Mischabel massif. There is a parking lot close to the spot, or you can take the chair lift in Saas-Almagell up to Furggstalden and walk 500 meters. I took my 3 year and 6 year old here and it was my little one's first time ever climbing. The training crag offers 6 beginner routes and a short distance above this are the Goldfad and Hiischerflie routes, both grade 6 multipitches. If you visit in autumn you will find yourself immersed in the gold of the larches. As a side note, I recommend the restaurant Alpina in Furggstalden, they have delicious affordable food, a large terrace with sweeping views, and a play area for the kids.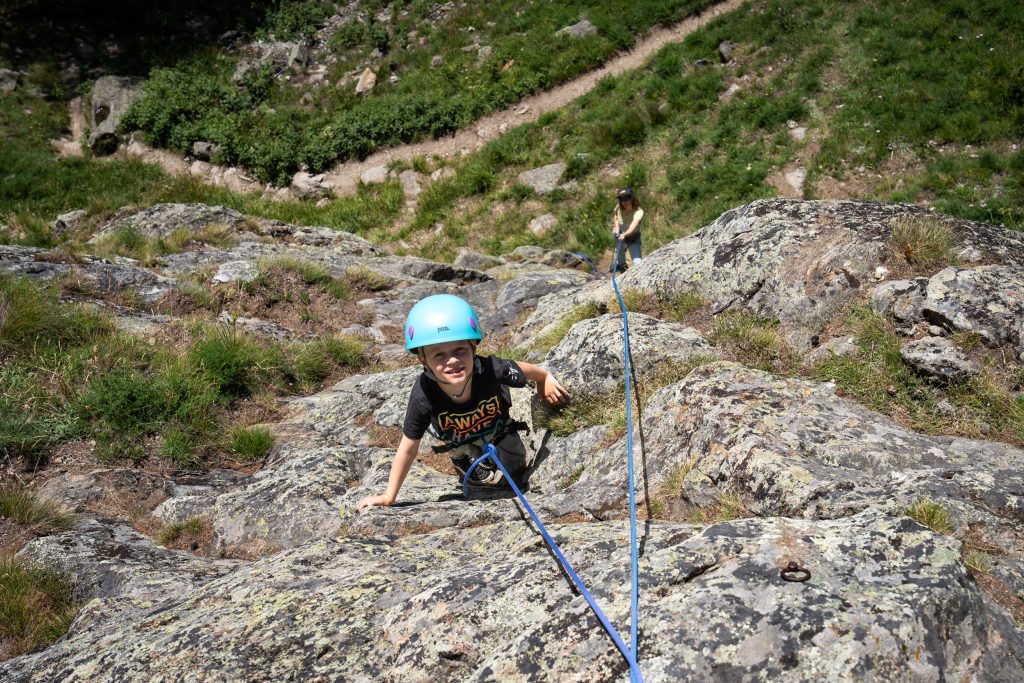 Saas-Balen, Siwitschuggen
Technically demanding and with long and steep routes, Siwitschuggen is the El Capitan of the Saas Valley. Heading north on the road, you want to turn east in Saas-Balen, just after crossing the bridge. Follow the switchback road up and park at the first hairpin turn. From here it's about a 20 minute walk, if you were on foot it would be approximately 1 hr from the bus stop. Getting to the climbing wall demands close attention to the path as it's not well marked. Look out for the stacked stone markers to guide you. Not suitable for kids, this spot is isolated, quiet and comes with an amazing view. It's a bit of a mission to get here, but for grade 7 climbers it's very worthwhile. Siwitschuggen has 20 different routes, most in grade 7. Seen here are my sister and brother in law, getting gnarly on Miss Siwi. The lower section has several routes which lead you under a 6 meter horizontal roof, the only one of its kind in upper Valais.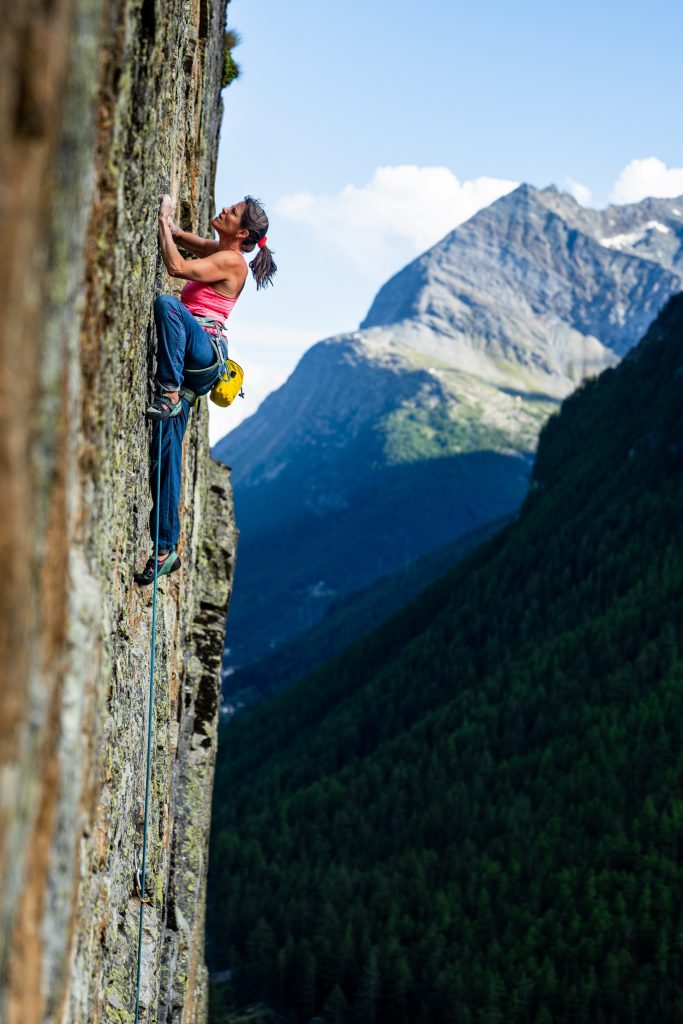 The Saas Valley offers enough solid climbing spots for everything from a week long climbing holiday to a full on summer. Outside of the spots along the valley floor, there are several killer multi pitch routes, including ones on Jegihorn, Almagellerhütte, Furggstalden and Mischabel hut. For a comprehensive overview of all the climbing in this area, I recommend the «Oberwallis Climbing Guide». See you on the rock!