People
The decathlete of adventurers
He has stood on glacial ice looking down onto lush jungle and run a marathon in the most isolated country in the world. For his latest challenge, Saas-Fee's Lothar Supersaxo plans to swim across 80 Swiss lakes.
Many episodes in the life of Lothar Supersaxo read like something out of a collection of Tintin comics. Before turning 18 years old, he and a friend cycled to Paris. His bicycle journeys continued, taking him and another friend to the edge of the Sahara in Morocco, before venturing, alone, to Scandinavia's Arctic north. From the saddle, the young adventurer also experienced the conflict between Protestants and Catholics in Northern Ireland first hand. Years later, he stood on top of the Carstensz Pyramid gazing down at the snow blanketing the remains of glaciers and barren limestone rocks above the endless expanse of jungle that is Papua, Indonesia. He has swum from the infamous Alcatraz prison island across San Francisco Bay. He was almost run over by a huge container ship during a five-hour swim across the Straits of Gibraltar. His partner, Manuela Sigrist-Barredo, tells me that, fittingly, he loved reading Tintin comics in his childhood. She joins Lothar for his meeting with 4545 at 12-inch CofFee in Saas-Fee.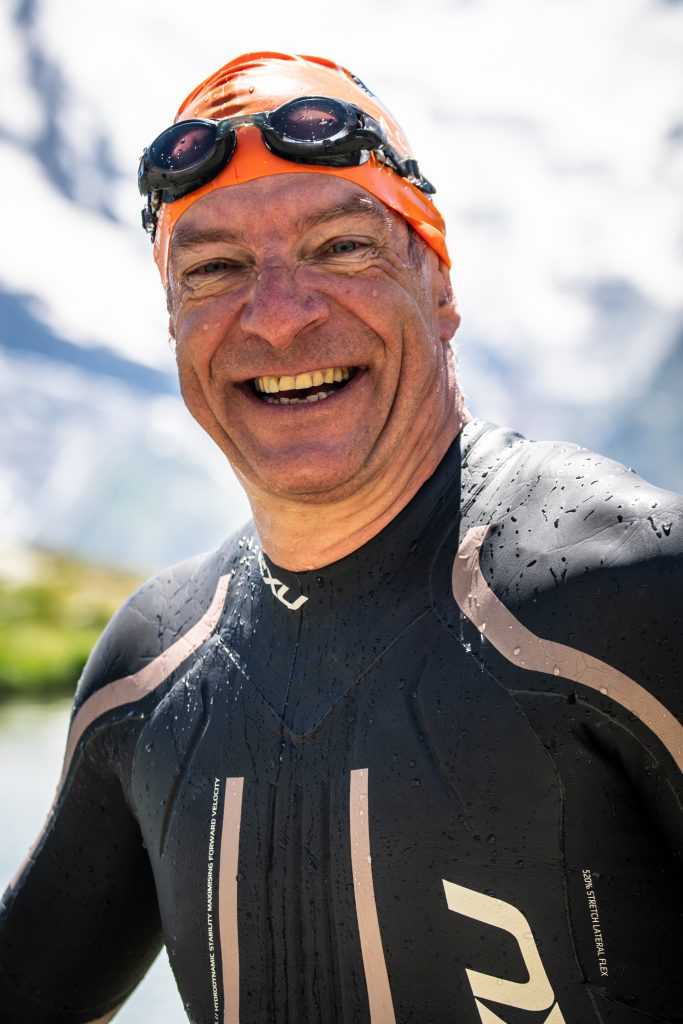 Driven by wanderlust
The urge to travel, to escape, has been with him from a young age. "I've always had a wanderlust inside me," says Lothar over coffee.His love of adventure has taken him to more than sixty countries. But Lothar is also a family man through and through. He married at twenty-two and was a father of four by twenty-eight. To date, there are five grandchildren. Of course, there have been setbacks too. A divorce from his first wife, for example. "Nobody wants to go through that," says Lothar, who now lives in the canton of Bern with current partner Manuela Sigrist-Barredo. There, he works as general manager of a medical fund, where he and his team are responsible for the credit management of medical and therapeutic practices.
Venturing into the unknown
An adventurer with an orderly life and fixed working hours? It is unusual. "My projects tend to start life as pipedreams, slowly taking shape over time," says Lothar. "Something always pushes me towards adventure, to breaking away from everyday life," he continues. The Saas-Fee local then explains what differentiates experiences and adventures: "An adventure always includes an element of calculated risk. An experience, however, is planned from A to Z. That doesn't leave much room for the unexpected." Lothar finds that it is precisely that element of risk, the fact that he can fail, that makes his adventures so special. When he attempted to swim the English Channel, he found the waves too strong. He let it go, switching focus to cycling in France instead. There he crisscrossed the country, taking in the Pyrenees by bike and tackling some of the Tour de France's best known Alpine passes. Instead of the English Channel, he swam between Lausanne and Evian, across Lac Leman. Then he switched to running, and completed a journey from northern France to the summit of the Matterhorn on muscle power alone. When attempting the seven-day Gigathlon, he had to take a rest day and fell out of the rankings. "Failures like that help to push me further," says the finisher of 21 Ironman triathlons. "Of course, success feels better, but failures can be analysed and learned from. It's vital to get back up and try again."
The mountain local becomes a triathlete
Sport has always been an important part of Lothar 's life. Born and bred in the mountains, he often left seasoned, professional triathletes behind when he started competing. He travelled to Hawaii four times to take part in the Ironman World Championships, but he never became a professional himself. He did consider it once, but "couldn't have juggled it with family and work," he tells me. Nevertheless, he trained like a maniac back home in Saas-Fee. After work, he ran up and down the stairs and ramps of the village's multistory car park. Over and over again. For hours.
"Of course, success feels better, but failures can be analysed and learned from. It's vital to get back up and try again."
A little bit of freedom in North Korea
Lothar 's achievements also include several marathons: the World Marathon Majors, among others. None was quite as special as the marathon he ran in North Korea. "The country is so isolated that it feels like you're on another planet," he says. Marathon participants were only left alone during the race, which started and ended at the 60,000 capacity Kim Il Sung Stadium. The rest of the time, observers from the communist leadership accompanied the group at every turn. "We were only allowed to see what they wanted us to see," he tells me. However, he found the North Koreans to be extremely welcoming to visitors: "They practically carry you around in their arms." Tourism is an important source of income for the country, which is bitterly poor due to decades of isolation and economic sanctions.
Swimming across Switzerland
What sets Lothar apart from most endurance athletes and adventurers is his versatility. "I see myself as the decathlete of adventurers," he tells me. He is just as comfortable in the water as he is on land. He has already swum various lakes and oceans, covering impressive distances, showing his endurance there too. He will need it for his latest project, swimming 80 lakes across Switzerland and at the same time drawing attention to the importance of water as a natural resource. In addition to the 28 largest Swiss lakes, numerous reservoirs, canals, mountain and glacier lakes are on the agenda too. No wonder he has no fear of the freezing cold lakes of the Saas Valley, despite temperatures just a few degrees above zero. In fact, he used them to prepare for his 'Tour des Sui-Lacs' project. He travels between the various lakes and other bodies of water by bike or on foot. However, the coronavirus pandemic made planning so difficult that Lothar was forced to divide his water odyssey into two stages. This summer, his journey took him from the source of the Rhine in the canton of Graubünden to the Rhine Falls in Schaffhausen.
His happy place: Melchboden
The inspiration for his current project came from home. "I grew up in the Saas Valley, and Switzerland is known to be the water tower of Europe. Water, the elixir of life, is never in short supply here,"he says, "but the same cannot be said everywhere. The storage and efficient use of water will increasingly become a concern, both locally and worldwide." He hopes his Tour des Sui-Lacs project will raise awareness of the importance of water. Lothar Supersaxo is always happy to come home to Saas-Fee, and not only because the 1,800 m elevation is optimal for training. The place is special for one reason above all others: "Life in the glacier village is like one big family. You know everyone and vice versa. And despite the many mountains, I feel anything but trapped here. It feels like home." As a parting shot, the idiosyncratic adventurer reveals his own happy place in Saas-Fee: the fairytale forest of Melchboden.