Trail running is everywhere nowadays. But what exactly is it? Why is it so fashionable? How and where can you do it? Find your answers here.
What is trail running?
Trail running is all about ditching the pavement. As soon as you tie up your trainers and stray away from traditional roads and treadmills, you can consider yourself a trail runner. Contrary to popular belief, it's not typically a risky extreme sport. Simply jogging around the vegetable patch in your garden makes you a trail runner
Why is it so fashionable?
Getting away from the tarmac or the treadmill of your local gym not only has physical and mental benefits – it's also more fun. Let's be honest: treadmills can be boring. Even the open road can zap motivation fast. But with trail running, every metre offers different experiences, sights, smells, and sounds. Nature becomes a kind of multi-sensory experience. For your inner child, it's a way to let off steam, splash in puddles, jump in the mud, and revel in a sense of adventure. Jumping over the rocks and tree stumps on the way makes you feel like India Jones – always a bonus.
On top of that, you have the physical elements: running on rough ground and over obstacles improves physical endurance, coordination, and reflexes. As you dodge tree roots or stones, multiple muscle groups are constantly engaged to maintain stability. Different ground conditions keep the body moving dynamically, which minimizes the risk of injury. It even gives your mind a workout as you concentrate and adapt to new terrain as you go. You don't simply go through the motions, and there's no letting your mind wander like you might with conventional jogging; it's easy to stay in the moment, to focus on what's right in front of you. It's a good mental exercise, and you feel rejuvenated once you're done.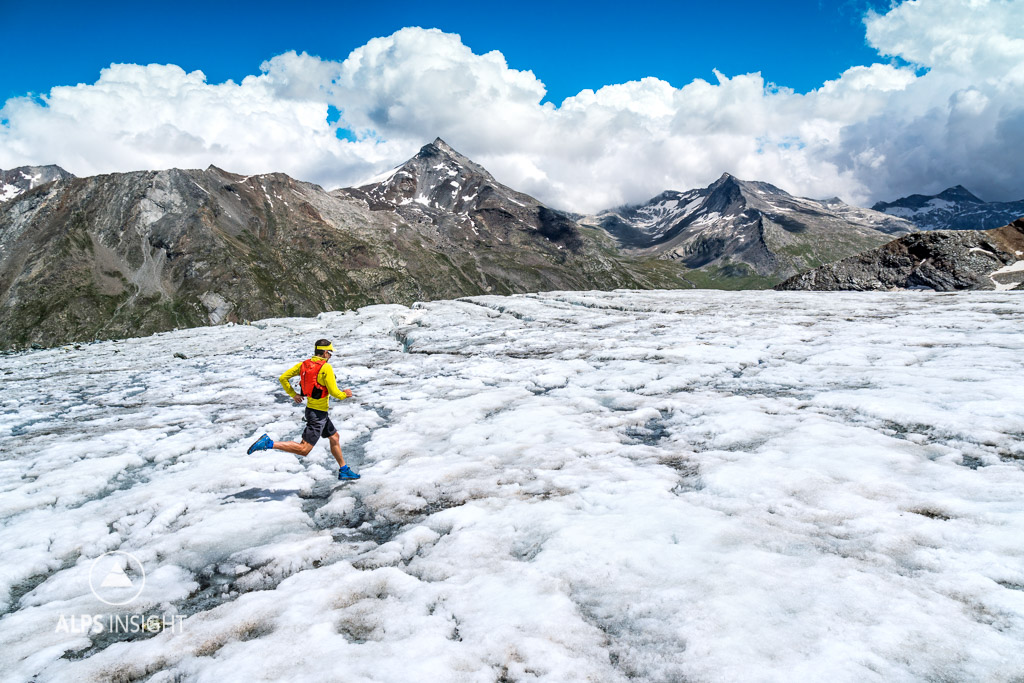 What do you need to know?
Some pointers, for those who want to give it a go.
Choose the right footwear: No one shoe is better than the rest – it's whatever works best for your feet, as long as it's suited to the terrain. Lightweight trail running shoes allow direct contact with the ground and come equipped with a non-slip sole and durable upper. Trail running shoes generally have less cushioning because the terrain is softer than when running on roads or a treadmill. That said, although a thinner mid- and outsole means a more agile shoe, it also means you can feel more of the uneven ground, stones, and scree underfoot. Take care when choosing waterproof shoes. Stiff upper material is usually used to guarantee better protection against wet conditions, but that, in turn, restricts breathability.
Start slowly: Don't try to traverse the Alps on your first try. Start by jogging shorter routes on familiar forest paths, then build in short trail sections. Get a feel for a variety of surfaces and then begin to try out rougher terrain.
Strengthen your foot muscles & running technique: Uneven terrain makes your feet work harder, so well-trained foot muscles are key. For example, five minutes of skipping each day provides a great workout. You can also work on your running technique: jogging on the spot, sidestepping, jumping jacks and circuit training on the Vita Parcours offer good training options.
But most importantly, have fun and enjoy nature!
Where can you do it?
Find some natural terrain, away from roads – wherever you're comfortable. There are endless options in the Saas Valley.
Saas Trails by Kim Strom
The tourist office has brought in the experts. Having visited the Saas Valley on several occasions, the team behind trail running guide Run the Alps, Switzerland – 30 Must-Do Trail Runs recommends the Valley's runs among their top picks. Experienced trail runner and writer Kim Strom shares her tips.
Hannigalp Trail
The Hannigalp Loop is a great introduction to the terrain found in the Alps. It's a moderate trail running tour (a distance of 10 kilometres with 520 metres of vertical gain) which includes plenty of singletrack, a bit of rocky terrain, and even a summit. After riding the gondola up to Hannig, the trail starts with a 600-metre ascent to Mällig where you can pause to enjoy views of the Mischabel Group's 4,000-plusmetre peaks and glaciers, as well as the Weissmies and Lagginhorn across the valley. From the summit, descend a short ridge into a small valley behind the Senggflüe. Don't forget to look over your shoulder at the glaciers cascading off the Nadelhorn as you cruise down to re-enter forest at Balmiboden. Finally, the descent concludes with a cool cruise on silky smooth singletrack through larch forest, all the way back to Saas-Fee.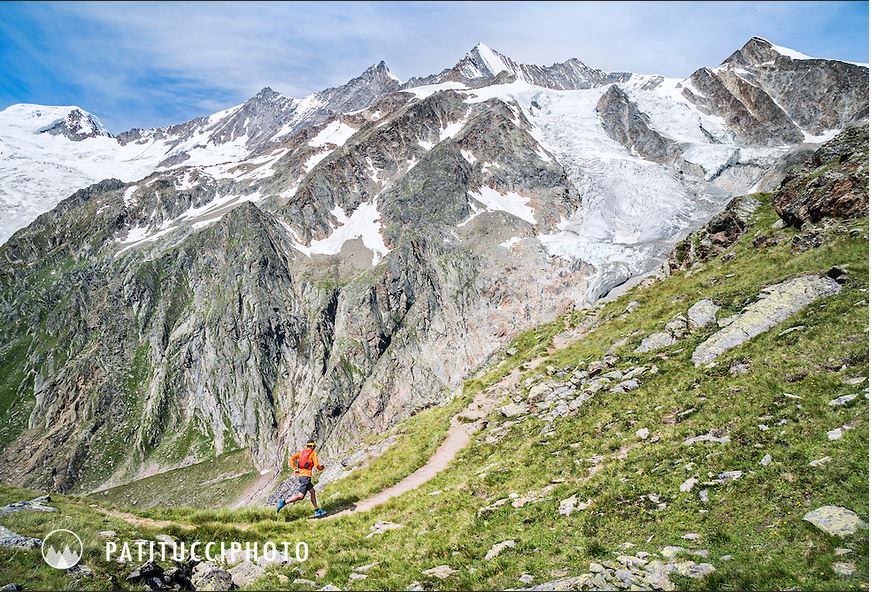 Jazzilücke Trail
This circular trail is found in the Run the Alps Switzerland trail running guidebook and has a little bit of everything. It starts with a long climb, on an incline gentle enough to run up, before gaining enough elevation for big views of the surrounding 4000-metre peaks and glaciers. Some easy scrambling follows, and finally a fast downhill finish.
Starting in Saas-Almagell, the 21-kilometre loop leads over an ancient salt trading (and smuggling) route, and connects two wild Swiss valleys, passing over the Italian border on its way. Switchbacks lead up through larch forest and into the secluded Furggtälli Valley. Heading to the back of the valley, easy running becomes rockier and more technical as you approach the Antronapass, where you cross into Italy and make your way around the Jazzihorn before returning to Switzerland at Jazzilücke. At that point, you've gained nearly 1400 metres, now it's time to descend the same distance.
The steep descent to the Ofental eventually levels out and the trail provides a mix of both technical and fast running. Speeding down to the Mattmark dam might be the first time you meet other people on this otherwise remote route. Stride alongside the turquoise water of the lake before descending to Saas-Almagell.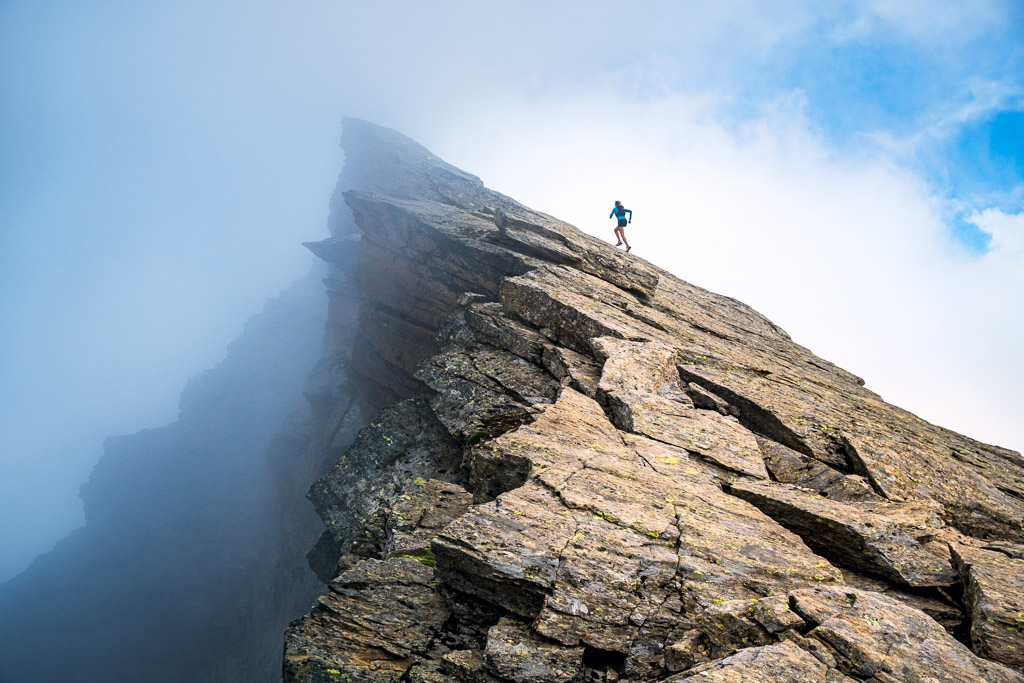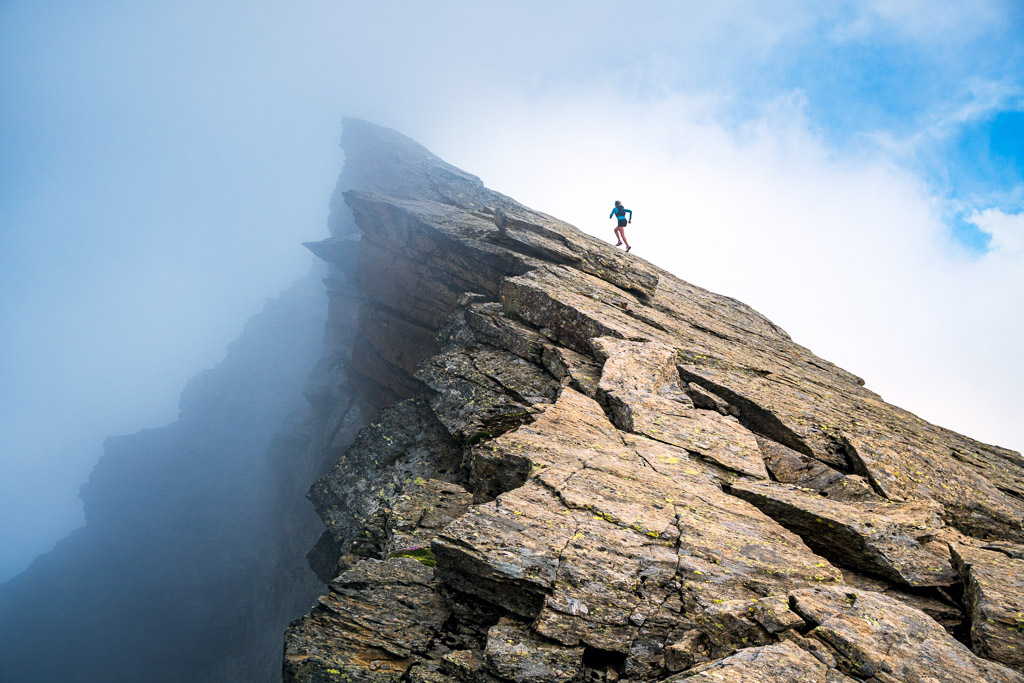 Glacier Trail
The Glacier Trail is a day-long route with a huge variety of terrain. Thanks to all the right ingredients: alpine views, singletrack, a hut stop, glacier crossings, and a fast descent, it's a day you'll never forget.
Runners should be ready to take on 28 kilometres of track and 1600 metres of vertical gain as they leave Saas-Fee and head for Plattjen. After Plattjen, things quickly turn more technical as you make your way to the Britannia Hut. Once you reach the hut, the Klein Allalin, standing at 3,069 metres, is a quick climb for a great view of surrounding glaciers and 4000-plus-metre peaks. Return to the hut to recharge and sample what's on the menu that day!
From the hut, you head almost directly out onto the Hohlaub Glacier. Trail markers guide the way across to a rocky island, and from there you'll move on to the Allalin Glacier. A long traverse on flat, hard snow and ice leads you off the glacier and back onto rocky trails. From there, it's a steep descent to the Mattmark dam before the fast, flowing trail down the valley to Saas-Almagell. From Saas-Almagell it's just one last 150-metre climb to get back to Saas-Fee.