Jump on, start pedalling, and off you go. With beautiful scenery flying by, the wind in your hair and a cooling breeze on your skin, the soul can't help but relax. Mountain biking is in, and people are pedalling everywhere – us included. Discover the Saas Valley bike experience with us.
Bikes are in fashion right now; the e-bike boom continues and demand for the "bike experience" has grown enormously in recent years. Naturally, tourist hotspots are paying attention. They are gearing up, creating dedicated trails, bicycle parks and declaring whole bike republics. For now, though, the Free Republic of Holidays Saas-Fee/Saas Valley will remain just that. While it may not be becoming a "bike nation," it still has plenty of great experiences to offer bike fans.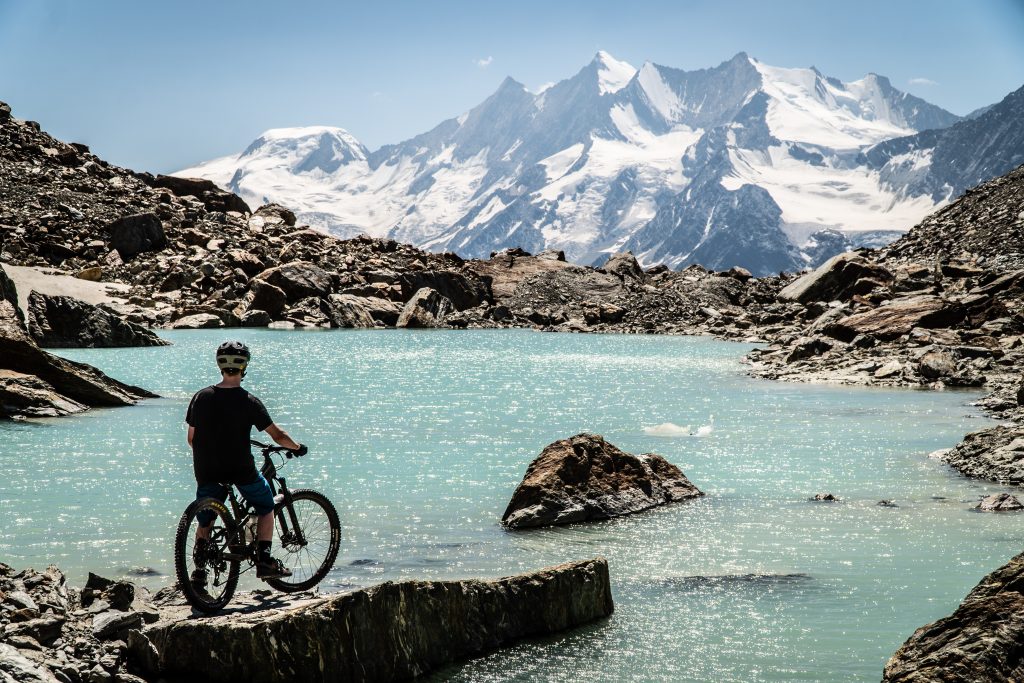 Versatile Saas trails
Saas Valley is a well-known and popular hiking destination, but there are many more ways to make good use of a week's stay. As of this summer, a total of 11 bike trails are available. In collaboration with the Saas-Fee Guides, we've put together a varied trail offering, with something for everyone to enjoy, no matter their level. Easier routes, such as the Mattmark Circular Bike Trail on page 68, are well-suited for families and seniors. Meanwhile, for those that prefer to be more adventurous, the Hohsaas Trail is ideal – read Scott's article on page 62. Do pay attention to the trails' marked difficulty levels. The Hohsaas Trail, for instance, has been rated 5 – meaning the first part is an expert level trail. The Mattmark Circular Bike Trail, on the other hand, is rated 2, meaning it's a much easier option. If you are unsure, just ask at the tourist office desk and we will be happy to help.
New bike map and more information
On the Saas Valley Tourismus AG bike map, you will find all the Saas Valley trails marked with the relevant information. It also shows bike rental options; note, some hotels rent to the public, whilst others only rent to staying guests so it's best to ask. In addition, the newly opened Sessaasfee bike shop on Oberen Dorfstrasse will be happy to advise you. For equipment, you can go to one of the many sports shops in the valley, and contact the Saas-Fee Guides for any further information or to book a guide.
Trail etiquette
No matter which trails you use, it is important for cyclists and hikers to exist in harmony so that everyone can be comfortable in thei surroundings. When on bike trails, hikers are asked to be tolerant, and bikers are asked to:
• Wear protective equipment.
• Stay in control at all times.
• Give priority to hikers.
• Stick to marked trails.
• Close any gates behind you.