From 24th to 27th March the Mentelity Games will take place in Saas-Grund for the second time. We talk to three para-snowboarders about their experiences at this winter sports event for people with disabilities.
Pasta is a popular choice for carb-loading sportspeople. I met three Swiss para-athletes, Luzia Joller, Gaël Suhner and Andreas Schroth, one lunchtime for a plate of the good stuff at Saas-Fee's Arvu-Stuba. All three are avid snowboarders, and they are in the Saas Valley for the para-snowboard weekend, which is run three times a year by PluSport. PluSport is the umbrella organization of Swiss Disabled Sports which has around 12,000 members. Joining the trio at the event are four PluSport coaches.
Luzia, Gaël, and Andreas take every opportunity they can to get on the slopes. They participated in the first Mentelity Games, which ran from 10th to 12th April 2019. The games are the brainchild of three-time Winter Paralympic gold medalist and five-time world champion in para-snowboarding, Bibian Mentel. They're all excited to take part in the games again, with the Mentelity Games returning to Saas-Grund for the second time in March 2020. The three-day ski and snowboard event brings people with disabilities from all over the world together for training and workshops.
The first Mentelity Games
Para-snowboarding is a fairly new discipline in Switzerland. Silvan Hofer is the project manager for para-snowboard at PluSport, as well as a snowsports instructor and trainer for students and snowsports teachers alike. He has been building its profile for about three years now. It was Silvan who encouraged Luzia, Andreas and Gaël to attend last year's Mentelity Games. The event offered skiers and snowboarders with disabilities a comprehensive choice of activities and training. At the "Wissensstrasse" (Knowledge Street), newcomers were given the chance to figure out which sports they wanted to try out, and then a program was selected tailored to the individual disability. During the three-day event, participants were given lessons, either in ability-matched groups or with private trainers. They were also informed about further courses run by ski and snowboard professionals and learned more about the different disciplines within the sport, like slalom, freestyle and touring.
Andreas, who has been snowboarding in Saas-Fee for years, whole-heartedly recommends getting involved. "It was quite a challenge to ride with guides I didn't know to start with, especially as they used different snowboarding techniques from those that I was familiar with. But I benefited greatly and learned a lot." For Gaël the highlight was meeting other attendees and he looks forward to the next Mentelity Games "to see everyone again, it was so much fun!" Luzia also had a great time during those first days in the Saas Valley. All three were assigned to top-level athletes and Paralympic medalists at the workshops because of their high level. But, as Luzia humbly puts it, "it's the coming together that's important, not your athletic level. It's the fun of trying new things and sharing your tips and tricks. You see on their faces just how grateful the attendees are for being able to be a part of an event like this one. I was amazed at what people can do, and motivated by everyone's incredible spirit. I think it would be cool if there were more participants next time."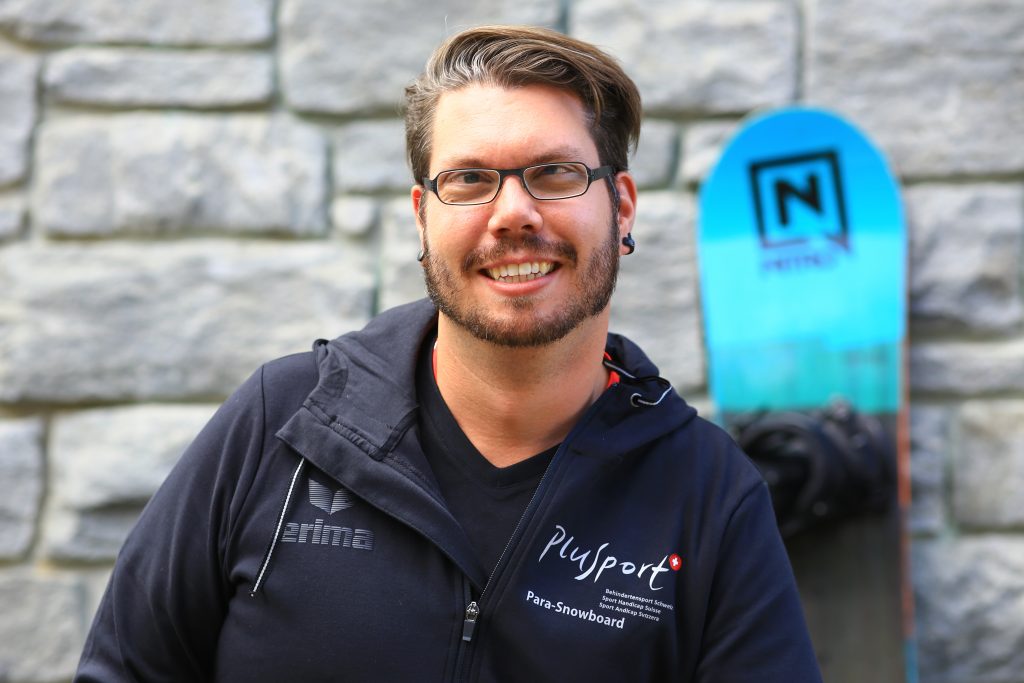 Luzia: one bad accident changes everything
Luiza Joller started skiing at the age of two. When her brothers made the switch to snowboarding, the then six-year-old followed suit. At twelve, she raced for the first time. Snowboarding became her life and at fifteen she joined a sports-college in Engadin, to realize her prodigious talent.
But after an accident in 2010, the graceful woman with the wild dark curls from Grisons was forced to take a long break. The former student fell so badly that ultimately, her left shoulder joint had to be amputated, leaving her disabled. Back and phantom limb pain have dogged her life ever since. Whilst she lives a relatively independent life, she needs a little help around the household. In addition to the consequences of her accident, her ADHD (an attention deficit disorder) causes problems. I start to notice it when the salad is brought over. The 34-year-old falters while telling her story, obviously distracted by the interruption.
In 2017, she got back on a snowboard once more. For a long time, she'd only ride in her garden. "I was afraid I'd fall over again," she recalls. But that very same year, doctors gave her the all-clear to resume snowboard training. Now she dreams of making it to the 2022 Paralympic Winter Games in Beijing.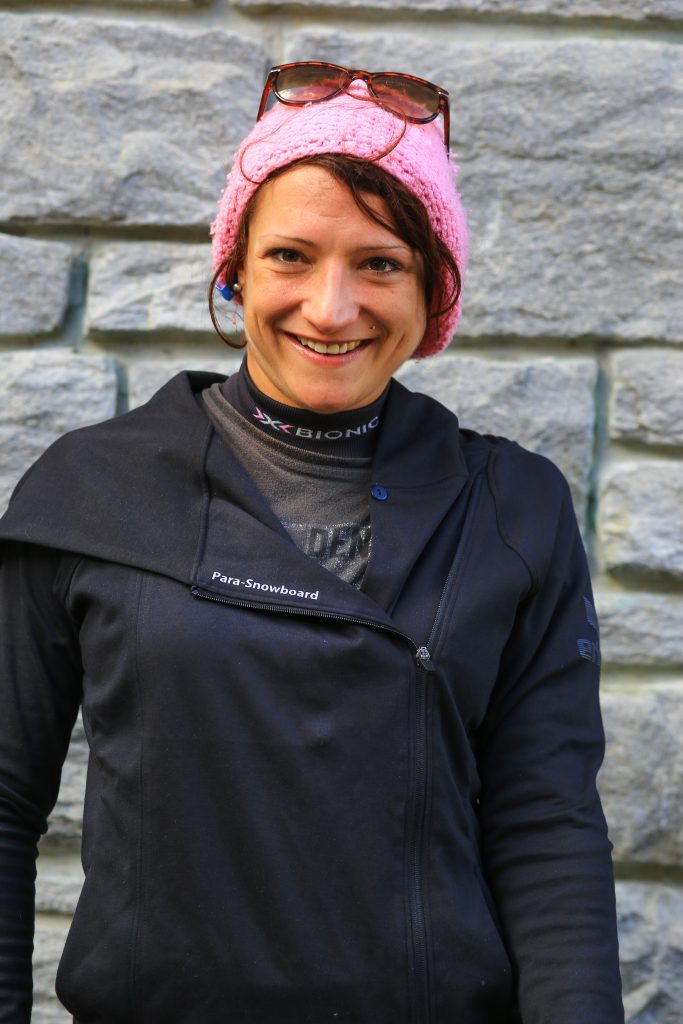 Gäel: Born with a disability
At just 12 years old, Gaël Suhner is the baby of this group. He's sponsored by PluSport as a junior para-snowboarder. Gaël was born in Bavaria with a deformity of his hand and arm. But I don't notice his impediment as he spears Penne Rigate alla Bolognese with his fork. The A-grade student comes across as very grown-up for his age. There are only a few situations in which he feels disadvantaged as a result of his disability. "If, for example, I can't do something with my little brother, then I notice it," he explains.
His family moved to Switzerland eight years ago. At six years of age, he started snowboarding – but it's not his only hobby. He also sings with the Zurich Boys' Choir. Although, a career on stage isn't on the cards according to his plans; he wants to be a maths teacher. "So you can set the homework?" I ask. "Exactly," Gaël shoots back, playfully. His grin sets the group off laughing, before he goes on to explain that "no, really it's because I like teaching others and I like mathematics best." Time and again he makes everyone around him laugh. When asked how he balances his hobbies and training, he replies, "when I'm injured, then I'll sing for a bit instead. When I'm not, I go snowboarding… so I actually end up spending about as much time in the choir as I do on the piste."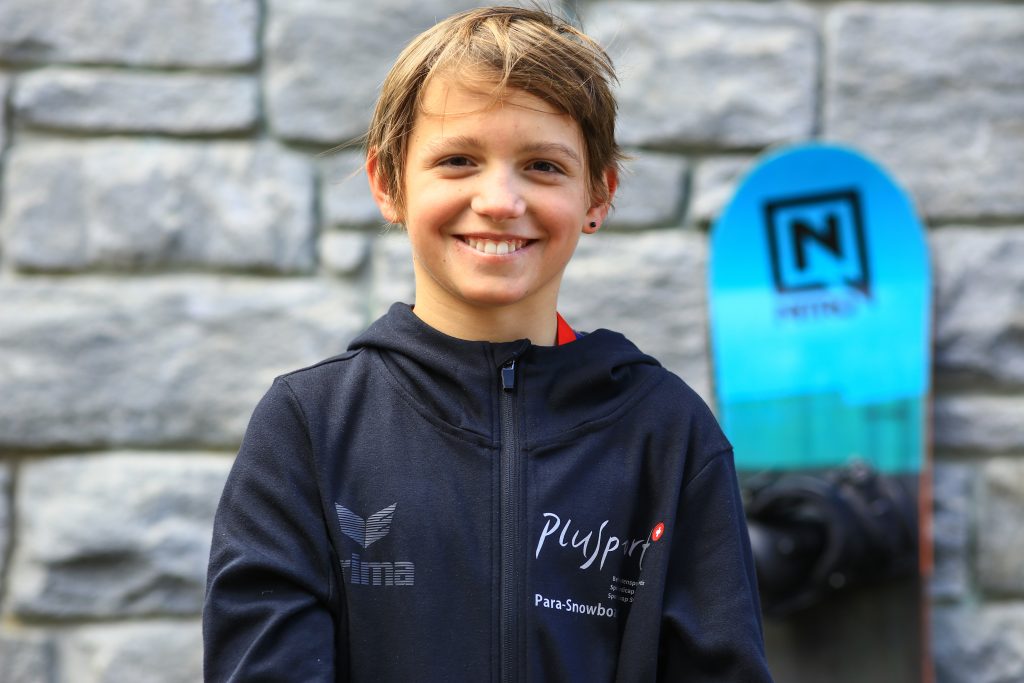 Andreas: "The biggest hurdle is a lack of understanding"
Andreas Schroth was born with serious visual impairment. The 30-year-old marketing manager for the Swiss Blind and Visually Impaired Association (SBV) can only snowboard when led by a trained adaptive snowboard guide. Away from the piste, Andreas, a budding home cook, is candid about his limitations: "For example, I can't just spontaneously decide to go snowboarding because I need a guide. There are some hurdles that I can handle better than others. But when I'm feeling down, I'm certainly more sensitive to obstacles, especially those that I can't control for myself. One of the things I've found to be the hardest is the job market. When you apply for a job with a visual impairment, the employer usually can't fathom that it might be possible for you to do the job as well as someone without a disability. Sure, there are restrictions in graphical work, of course," explains the Schaffhausen local. "but with the appropriate aids, things like screen readers and magnification software, I can do just about anything."
Three different stories, one shared message
As different as these three para-athletes are, they all share something in addition to their passion for snowboarding: their zest for life. Their conviction that nothing is impossible. None of the three has let their limitations get in their way. Their incredible skills will be on show again at the second edition of the Mentelity Games this March – where they will reunite as friends, but also as competitors on the slopes.