Ski cross athlete Fanny Smith on her life, successes, and how she grew to be a fighter. Or: how to deal with life's obstacles and find the right mindset. A conversation over a cappuccino.
Sunlight bathes the Mischabel Chain in gold as we cross the road. For a split second, she looks up, wistfully almost, at the snow-covered Allalin. She wants to be up there, skis on her feet and wind in her hair. But stormy winds on the 3500-metre-high glacier skiing area have forced the cable car company to close the pistes on this otherwise beautiful summer's day. And so, ski cross athlete Fanny Smith agreed to meet me for an interview.
"To me, skiing means freedom."
We sink into the brown leather sofas at Popcorn hotel, Fanny sports leggings, a training jacket, a beanie and an expectant look in
her marine blue eyes. She waits patiently while I get my notes
out of my bag.
Fanny, 27 years young and from the canton of Vaud, Switzerland, won a bronze medal in ski cross at the last Olympic Games. Over the past few seasons, she has won a complete set of medals, gold, silver and bronze, at the World Championships, in addition to a second place in the World Cup overall rankings. In short, she is amongst the best in the world at ski cross. And, like every summer, she is currently here in Saas-Fee preparing for the season ahead.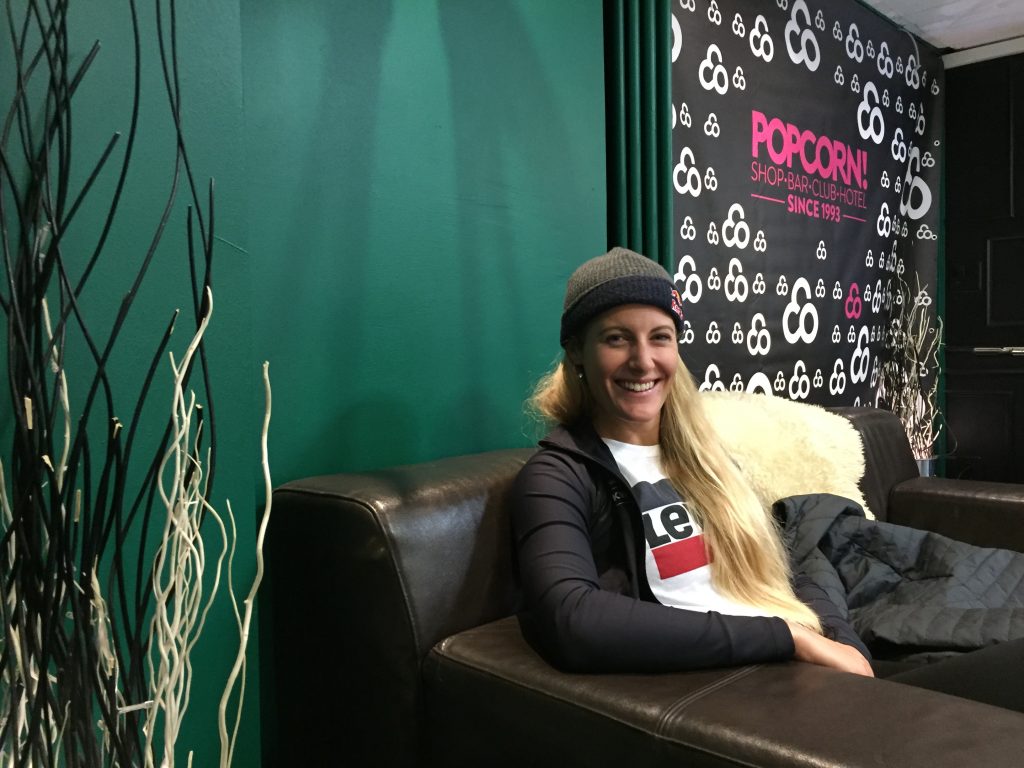 I glance at my notes again as the waitress comes to take our order.
Fanny Smith was born in 1992 in Aigle and grew up in Villars-sur-Ollon. Her father is a ski instructor and her now-retired mother used to be a primary school teacher. When Fanny started skiing at just two years old, she writes on her website, "a passion was born."
We order two cappuccinos.
What does skiing mean to you? I start the interview like a bull at a gate. She considers the question briefly and then simply says: "Freedom. When I'm skiing, the wind is in my hair, I can feel the warmth of the sun on my face and fresh air in my lungs, I feel free. I feel at one with life and fully experience the moment." Have you always known that you would be a professional athlete? "Well, no…" she answers, hesitating, "but I never had a dream job or anything like that. I always just wanted to ski."
"My dyslexia made me a fighter."
An older gentleman passes us on his way to the bar and gives a friendly nod. Fanny beams back at him for both of us and pauses for a moment before continuing.
"School was a nightmare for me. I'm dyslexic, so things that other people found easy were unbelievably difficult for me. I had to study ridiculously hard when I was at school," she tells me with the casual ease of someone who has made lemonade out of life's lemons. "The other kids made fun of me. Even some of the teachers didn't have much patience. It was awful. But I gained respect outside of school. I did stuff on skis that no one else dared to. I was a real daredevil!" she laughs. It's an infectious laugh, natural and from the heart. I jump in: "Were you trying to make up for your lack of success at school with your daredevil adventures?" "I wouldn't put it quite like that," she answers with a twinkle in her eye.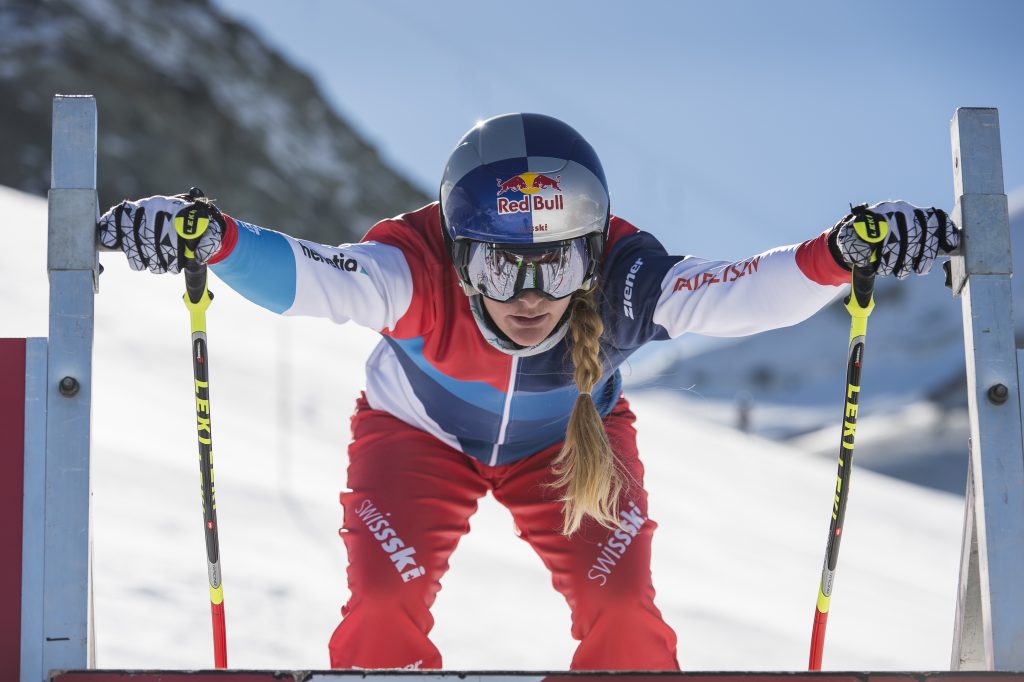 The cappuccinos arrive, Fanny thanks our waitress politely and reaches for her cup.
I press further: "But you said in an interview that it was your dyslexia that made you into a champion." She considers it for a moment. "My dyslexia taught me to work hard. You know, I worked incredibly hard at school and even so, I was still often unsuccessful. But I never gave up. I never forgot this lesson: the road to success can be tough and long. And even if you work hard, fight hard, give it your all,
success is never guaranteed. I learnt how to deal with setbacks and keep going. My dyslexia made me a fighter," she says and takes a sip of her cappuccino. "Whatever life throws at you, never let it stop you!" she adds. Her answer doesn't leave any room for doubt.
"In 2011 you had an accident at the World Cup, tell me about that," I say, changing the subject. Fanny puts down her cup and looks away for a moment. "The accident happened in December and my knee was ripped to shreds. I had an operation at the hospital in Bern just before Christmas. I can still remember the exact moment the surgeon came into my room after the operation and told me that I would probably never be able to ski again. My only thought was, "I'll show you. I'll be skiing again next year!" she says and her eyes glint with unflinching tenacity. "That was your first thought? You weren't scared?," I ask, taken aback. Her reply is matter-of-fact: "I'm actually not scared of anything. You can get through anything if you believe in yourself and work hard. I didn't doubt it at all. My whole recuperation process was driven by the aim of skiing again, at least as well as or even better than before," grins Fanny with the triumphant pride of someone who proved everyone wrong.
I take a bite of the biscuit that came with my cappuccino.
"Let's talk about Sochi," I continue. She nods and sits up on the sofa. She went to Sochi in 2014 as the World Champion with the goal of winning a medal. After a skiing error led to her being knocked out in the semi-final, she missed out. "Sochi stayed with me for a long time. My dreams, all my hard work. Everything was shattered. Injuries are one thing, you recover relatively quickly. But if something knocks you mentally, that can take years to come back from. After Sochi, I lost faith in myself. I had been so confident of getting a medal that I was reckless. I wanted to try out a new combination, but I made a mistake and was disqualified," she explains. "In Sochi, I followed my instincts and lost because of that. And I struggled with that concept for a long time." For a moment, the freckles stop dancing on her face. "Did winning the bronze in Pyeongchang help you get over it?" I ask. She perks right up again: "Yes! I worked hard on myself in the four years between those two Games. The fact that I won a medal in South Korea showed me that I could put what we had been working so hard on into practice. That made me proud and made me believe in myself again"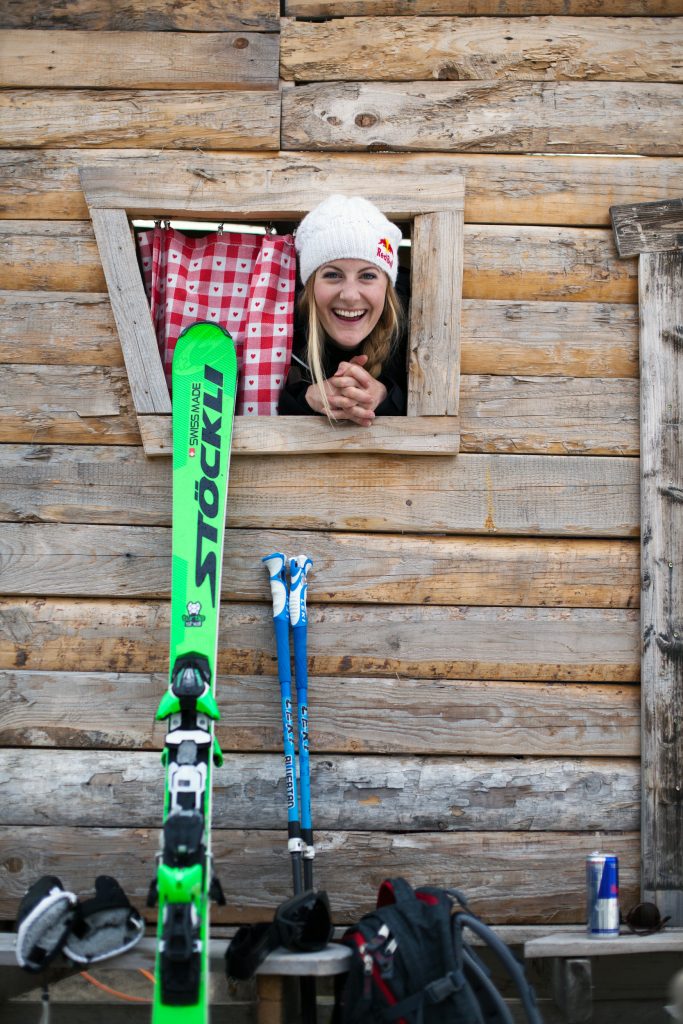 "I've learned to put defeats to one side and move on."
"Do you ever think about what you'll do once your skiing career comes to an end?" I ask. "Not at all. You have to live in the present. If you're thinking about what you'll do at a later stage you're distracted. My parents taught me to live in the moment and not worry about the future – what will be will be. I'm a skier right now and that's all I think about, I put my heart and soul into it… and I'll take the same approach with whatever I end up doing."
Fanny puts down her empty cup down and leaves the biscuit behind. We say our goodbyes and she walks out, exuding confidence. As soon as she leaves, though, the room seems a little bit darker. Fanny's energy, buoyancy, and warmth resonate with me for hours after. Tomorrow she will be skiing again, flying down Saas-Fee's glacier pistes, showing us all just how beautiful freedom can be.
Photography: Maurin Bisig/Red Bull Content Pool
Ruedi Flück/Red Bull Content Pool