Hunters and gamekeepers sound like they should be on opposite ends of the spectrum. After all, their occupations serve conflicting purposes. But, actually, they are closely connected.
Saas Valley chamois, marmots, eagles, bearded vultures, roe deer, red deer, field and mountain hares, badgers, foxes, grouse, and martens… They all have one thing in common: Helmut Anthamatten, the Saas Valley's gamekeeper for the last 33 years. His job is to protect the wild animals – their wellbeing is his responsibility. And so his daily work includes checking on animal numbers, keeping an eye out for signs of disease, recording whether and how many offspring the animals have, and keeping tabs on how well-fed they appear. In addition to monitoring the physical condition of the animals, protection and caring for their habitat also falls under his remit.
In Switzerland, the law defines which areas are protected for wildlife and these are subject to strict building and access controls. However, in holiday destinations, the tourist facilities, that's to say the ski lifts, hiking trails and the like can become problematic. By using them, people can more easily venture deeper into and even disrupt the areas reserved for wildlife. Nevertheless, the Saas Valley's topography does help keep people at bay, as gamekeeper Helmut explains. With much of the valley being steep and rocky, it provides ideal retreats for the animals, while being difficult to navigate for humans – a major factor in their survival.
With regulation comes conservation
Still, it's not only important to respect the living space of the wildlife, but also to ensure the quality of their environment. A central aspect of Helmut's role, he says, is to ensure that the size of the animal population remains appropriate for its habitat. Too large a population can cause damage to the forest, and given the chance, the ranger points out that animals will actually overuse their own habitat. In the case of overpopulation, that often means food supplies are often not enough to go around.
In Switzerland, hunting forms a part of wildlife management, to ensure that animal numbers are kept under control. Information collected by the gamekeeper is used to plan hunting quotas. That means that Helmut reports his findings to the cantonal department for hunting, fishing, wildlife stock, and welfare, who use it to decide what may or, in some cases, must be shot.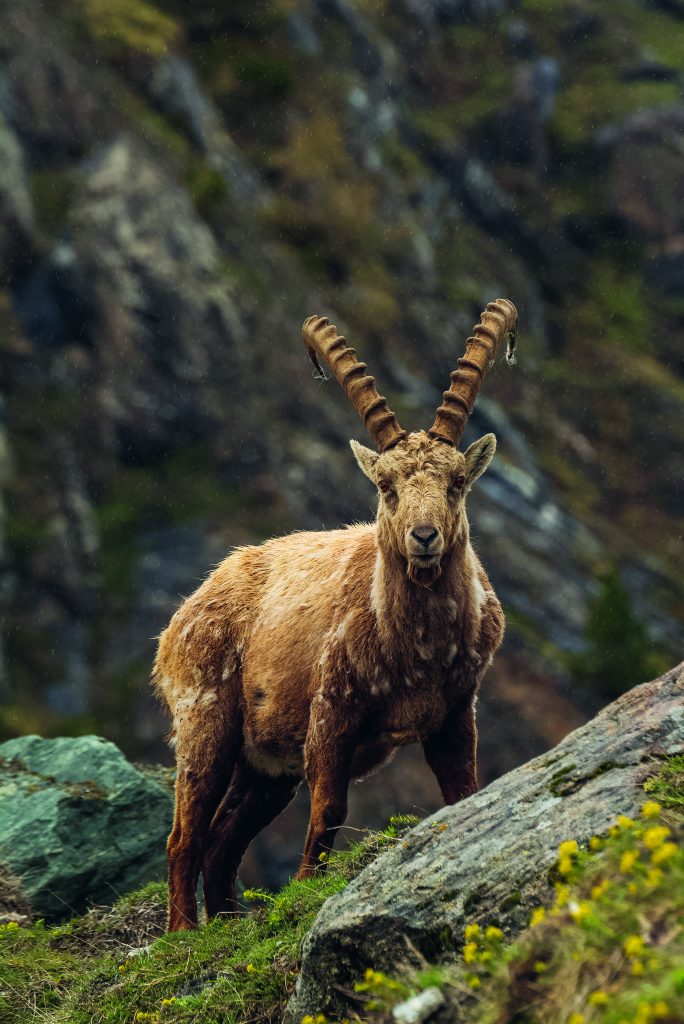 "The Saas Valley is an ideal
safe haven for animals."
Per the Federal Hunting and Fisheries Conference, Swiss federal hunting law aims to promote biodiversity. It aims to balance the welfare of the wildlife and its environment with the demands of the hunters as well as the forestry and agriculture industries. A good working relationship between gamekeeper and hunter is therefore essential. If Helmut notices overpopulation, he gives the instruction that hunters must intervene.
You might be tempted to argue that nature is able to regulate itself. But in reality, by the time it does, it's often too late, something Helmut knows only too well. For years, too few ibex were hunted on the left side of the Saas Valley in particular, with dire consequences for the animals. Their overexploitation of their own habitat caused a severe food shortage which weakened the entire population. They became more susceptible to disease and had difficulty surviving the harsh winters. A lesson was learned – hunting must be used to manage populations and prevent such calamities. If a hunter receives a permit in Valais, he is given instructions as to what, and how much he may hunt in each season. Even stricter rules apply to the protected ibex, and hunters are assigned specific numbers.
"The animal population must remain
appropriate for its habitat."
Saas tradition
One of these hunters is Peter Welti from Saas-Fee, who has been hunting since his youth. Back then, he would accompany his grandfather, but now he hunts alone. Peter is very conscious of the fact that he takes life during the hunting season, but he also has a deep respect for nature and the animals themselves. He goes into the woods three or four times a week, simply to see how the animals are faring, and occasionally take some photographs. Hunters look after the forest year-round, Peter says. Although hunting has enjoyed a long history in the Saas Valley, it's not just a historical pastime. In the recent past, hunting has been a central component of self-sufficiency, and virtually every Saas family still has its own hunters.
In the Saas Valley, hunting is controlled by means of a licensing system, and hunters have limited time windows in which they can shoot. The high season takes place in the last two weeks of September and the subsequent low season lasts a further three weeks, but hunting is only allowed for two days of each week. During this time, the game shot by Peter is butchered and served in his restaurant, Zur Mühle, in Saas-Fee. The stock usually lasts three to four more weeks, after which game season in Zur Mühle is over. Many local restaurants offer local game and highlight it accordingly on their menus. And Helmut is more than happy to tuck in – vegetarian, he is not. In fact, game is his favourite, as he readily admits. Because he knows for sure that the meat is organic, hormone-free and the animals have lived a good life in the Saas Valley.