People
Climbing past her limits: Vivien Labarile defies gravity
Vivien Labarile, from the Upper Valais, on life as a climber, how to overcome fear, and the role of the psyche when it comes to climbing.
Vivien bites her teeth, a fierce expression on her face. She pushes powerfully off one foot, swinging herself upwards – and missing the small hold by mere millimetres. Hanging on the rope, she breathes heavily and pauses for a few minutes to rest her cramping arms before going for her next attempt. Only the tips of her climbing shoes grip the edge of the rock, her left-hand clings on to a narrow ledge. She makes the leap again, this time, the fingers of her right hand just grasp the handhold. But there's no time to celebrate – she's already lifting her left foot higher, contorting her body closer to the rock face and climbing on.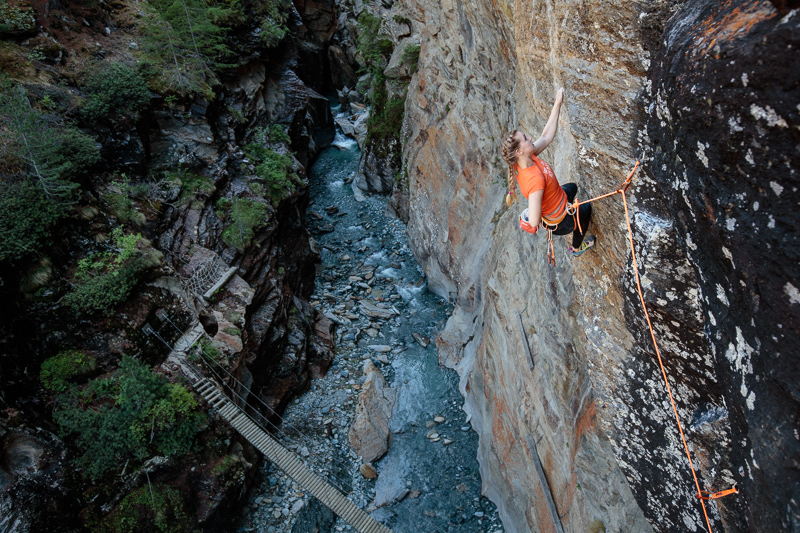 "Climbing fascinated and inspired me from day one."
The mental challenge
"Once I get the first fall of the day out of the way, I know it's going to get better," Vivien says. Climbing is mentally demanding. You need to be strong: "Whenever I climb a few metres past the last protection device, I start to feel a familiar knot in my stomach." Climbing further despite her fear is actually the biggest challenge for Vivien, but also her motivation. She conquers her fears, again and again, in order to keep climbing when her arms are already tired and the routes are tough. In those situations, she repeats a mantra to herself: "I can do this, I can make it, I just need to keep on climbing." Climbing is a mental exercise, she explains. How well you climb is all about the psyche, and that takes practice: "The more I train, the better I can control the fear, it gradually disappears into the background."
Surpass yourself
Although Vivien climbs with ropes, dangers still lurk. She has to constantly assess the situation: if I dropped, where would I fall? Would I hit the ledge beneath me? Vivien seeks out limits, the limits of what's possible. How small a grip can her fingers hold on to so she can continue to defy gravity? Every time she surpasses a limit and sees herself progress, Vivien rejoices. It takes patience to master a difficult route. It's not uncommon to take a few attempts, always going back to the same part. "When I finally make it, I'm so proud of myself. It's not about showing off: 'Hey, look I just did this route,' it's more about growing, doing more and more. That feeling of 'I can do it, I just have to believe in myself!'"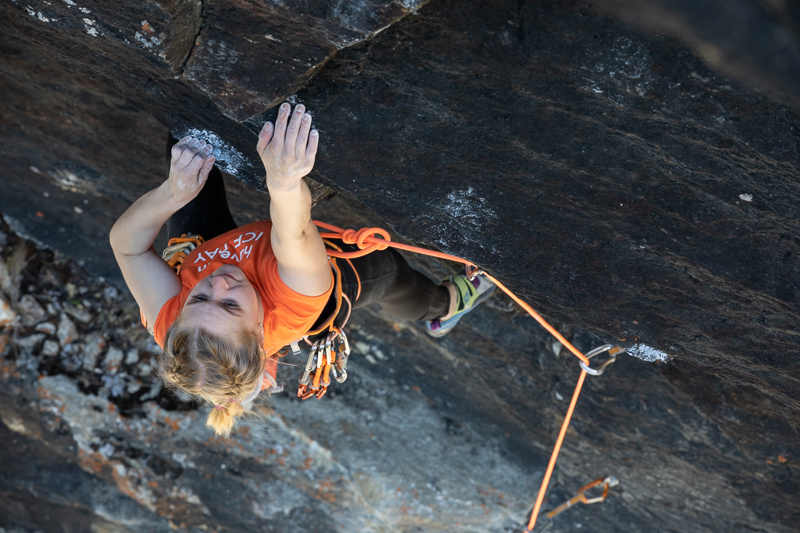 "Climbing is very much in the mind:
whether you make it – or you fall – it's all to do with the psyche."
Dreaming of Saas-Fee
In the winter months, Vivien swaps her climbing shoes for crampons as she takes to ice climbing competitions. At her favourite event, she climbs in front of a home crowd: "The mood in Saas-Fee is just brilliant. I get so much local support, that I always look forward to this competition the most!" In the Saas-Fee carpark, where the Ice Climbing World Cup takes place each year, the audience stands alongside the athletes on multiple floors. They clap, whistle and yell, with particular fervour for Vivien. "To become world champion in Saas-Fee would be an absolute dream!" Vivien tells us. She might not have to wait much longer: last year she won the bronze medal in the lead climbing category in the glacier village.
Climbing – a way of life
Vivien's blue eyes light up when she talks about her passion for climbing. Her strength and energy aren't obvious at first glance; her long blonde hair hides the muscles on her upper arms and shoulders. "People do sometimes tell me I have broad shoulders," laughs Vivien. Climbing isn't just a sport for her, it's her life. Everything became about climbing, from the moment she first tried it out with the Alpine Club at the age of just twelve. She spends her weekends climbing with her boyfriend. The pair sleep in their van in the mountains so they can spend as much time as possible doing what they love.
Vivien launches herself through the air again, barely grasping the ledge above her. Her whole body swings round before her feet kick off again. She loves dynos: "Because you never know quite what to expect!"
Photo: Puzzle Media