Hunting Seracs
There was a time when a well known slogan for Saas-Fee was "The Glacier Village". If you look at photos from 100 years ago, the glacier reaches nearly all the way down to the tree line at Felskinn Gondola. Growing up, I can remember being able to see Seracs, blocks or columns of glacial ice as big as a house or hotel, everywhere. 25 years ago, I can remember walking out of the Spielboden gondola and meeting the glacier. At Längfluh, in summer, there used to be massive towers of ice popping up next to the wall.

There used to be a photo shop here in the village called Photo Gilbert. The owner was a photographer and he had all these old photos and postcards printed where he had captured the glacier. To me these were legendary photos of our local history. Every time I walked by his windows I would stop and look. When he closed the shop a few years ago, I bought many of his photos as personal souvenirs. I have one of these photos framed in my house of two mountaineers standing atop a massive serac, with the village visible in the background and it got me thinking about doing my own photo mission in our seracs.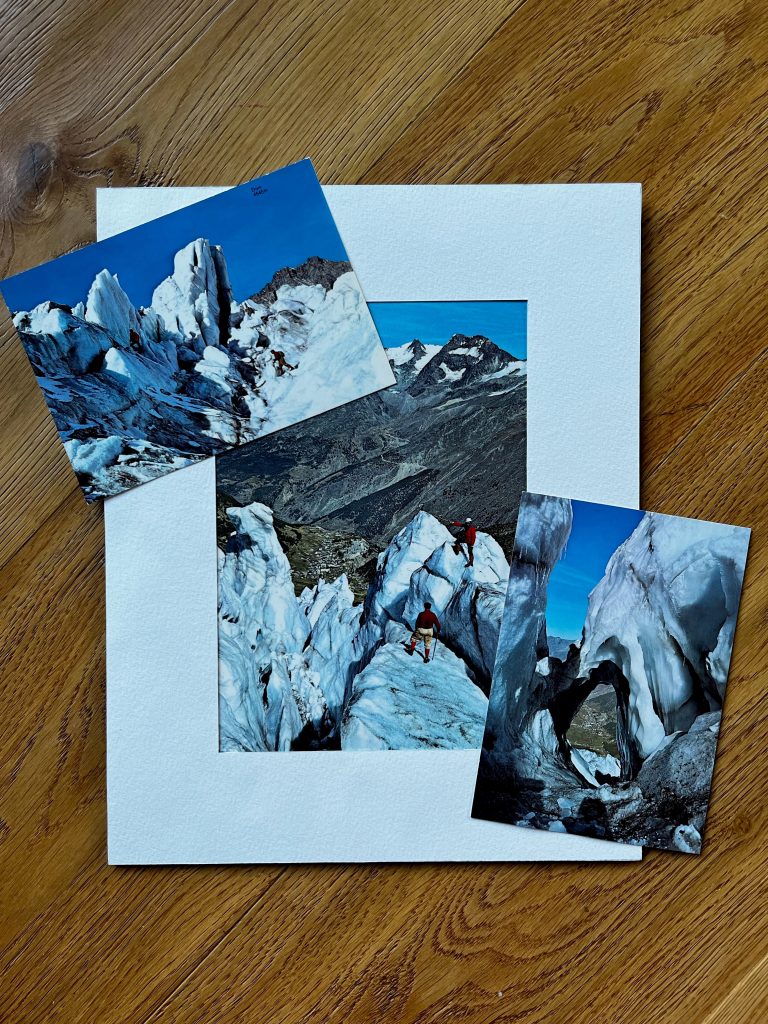 "I hope for a big snow year next winter, followed by a moderate summer, and I hope for everyone to treat global warming like the crisis that it is and to work together for change."
Last year was a terrible winter, and coupled with the high temperatures this summer, the pace of the glacier melting has really quickened. Anyone can see the glacier is suffering, visibly receding in size, shrinking in depth each year. And it was this that motivated me to go on this mission, hunting seracs. I wanted to know, how bad is it really?

My father was a mountain guide, and above my desk at home there hangs a photo of him as a teenager, out on a mission with his father, who was also a mountain guide. My father is standing among the seracs, smiling proudly. I wanted to capture as much of this wonder and beauty as I can while it's still here. One day they are going to be gone and all we will have left is what we document now.
I called up a few mountaineering buddies to see if they would join the hunt with me. Equipped with crampons, ice axes, ropes and harnesses, we set off into the glacier, specifically looking for seracs. The glacier itself is a labyrinth, so you can't just walk in a straight line. Often seracs are formed by intersecting crevasses. I had some hunches as to where we could find some of these giants, and I was right.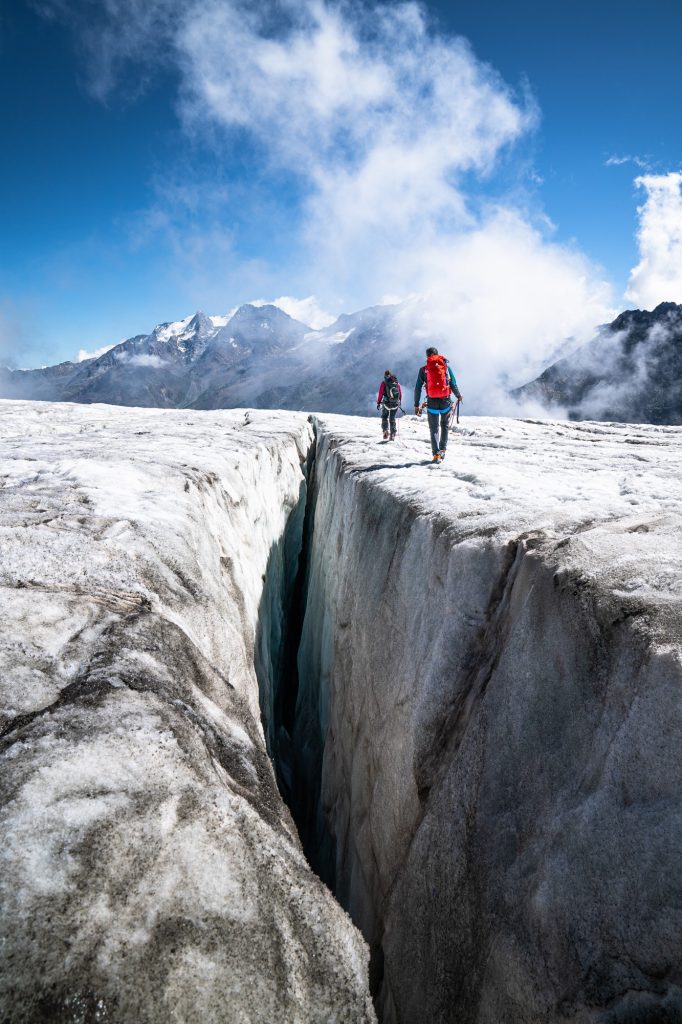 Moving through the glacier toward these huge ice towers showed us indeed how fast the ice is melting. There were rivers flowing right and left. We could also see the brown Sahara dust on the ice. These little specs of sand radiate the heat and accelerate the melting. This sand is nothing new but it's usually just an annual occurrence. Over the last few years it's happening more regularly and with more intensity.
But at the same time I was amazed at what we did find – how massive and thick the towers were in places. There are still huge masses of ice. At one point we came to a place where we could only continue by jumping over a crevasse. I'm glad to say that none of us found out how deep it was. And when we did arrive at the seracs, my friends, who are skilled ice climbers, were delighted to do some climbing.
This glacier is a gem, I recommend anyone who is in good shape to hire a guide and go on a tour of this magical place, to see it as long as it still exists. There is nothing like experiencing this magic with your own eyes, it's like being on another planet. My personal tip is to go in September or October, as this is when they are the most beautiful. The colder temperatures bring out the blues and greens in the ice, but you need to be there before the snow covers them for winter.

I hope for a big snow year next winter, followed by a moderate summer, and I hope for everyone to treat global warming like the crisis that it is and to work together for change.