Although the Talis Festival of chamber music took place end July 2015 in Saas-Fee, the sounds of
Talis still reverberate some months later. Walking through the village, passing the Dom Hotel where
open rehearsals took place for anyone to drop by and listen in, to taking a diversion to the classic
Evangelical Church simply to experience again that peaceful spot bringing back the vivid sounds of
bassoons, violins and more!
The second season of Talis was equally impressive as the first, with collaboration between
professional musicians and Talis Academy participants, most of whom are selected from around the
world through innovative online auditions. New talent is introduced every year, this time
participants came from as far away as Japan and Australia to Europe and the US. As described by
Scott Pool, Academy Director, they try to keep a good balance of cultures and people. While the
first criteria is talent, equally important is "personality" and how the individuals interact with a
group. In Scott's words "Then, true music gets to happen!"
The eclectic programme this year included contemporary creations, traditional classics, as well as
Latin sounds and children's afternoon sessions. A treat for all.
Unforgettable were the harp performances – Bernard Andres' Parvis for two harps, Carlos Salzedo's Tango from Suite of Eight Dances for two harps, and Manuel de Falla's La Vida Breve Spanish Dance no. 1 for two harps. Played with technical excellence, enjoyment and obvious love of the instrument by the harpists Carina Walter from Basel and Heather Woitena from the US.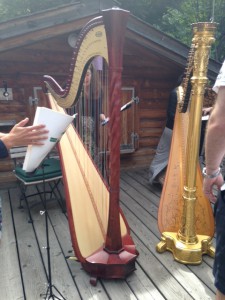 The festival provided an opportunity to hear unique creations and new music. Marcus Maroney
who teaches music composition at the University of Texas and has created orchestra, opera and
chamber music pieces, was the Guest Composer for this year. Bethany Brown, Talis Academy
Composer, created the piece which was played live with the silent movie "The Cabinet of Dr.
Caligari" shown in collaboration with the Saas-Fee Film Festival. Other unforgettable moments
were listening to Dmitri Ashkenazy play the clarinet solo Kovàc's Homenaje de Falla.
Saas-Fee, as described by the musicians, is an intimate and accessible village, inspiring, relaxed and
welcoming. Young Peter Delgrosso, 22 years old, a Master's degree student of classical horn at the
Aaron Copeland School of Music in New York City, and a returning Talis participant, enthused "I'm
very lucky" to be learning from and performing with top musicians. He felt that the special
environment of Saas-Fee, "makes the music and sets the relationship". The composer Bethany
Brown, while introducing her piece, said she had "Never felt more inspired!"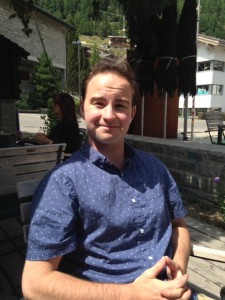 All in all, apart from the compliments paid to Saas-Fee, including by Maria Wildhaber, Founder and
Artistic Director, as a one of a kind location surrounded by nature, it is Maria's vision which makes
it happen. Her engagement with the musicians, group choices and decisions, a focus on the team
rather than the individual… To add to this, the energy, enthusiasm and warmth of a mother of two
active young children! While the Festival continues to grow, we hope that it will maintain its
individuality, creativity and intimacy.
For your calendars, the 2016 Talis festival will take place from 24 July – 1 August in the
Evangelical Church in Saas-Fee.
Renu Chahil-Graf
Saas-Fee, September 2015