People
The trials and tribulations of an ice master
Saas-Fee boasts one of the most beautiful natural ice rinks in the world. Otto Zengaffinen has managed the rink for decades. But what happens when the weather turns?
Even on Christmas day, Otto Zengaffinen can often be spotted at the edge of Saas-Fee's ice rink watching the tourists and locals skate. A group of teenagers laugh, sliding curling stones over the rink. Another plays ice hockey. The ice is an impressive 30 centimetres thick, comprising 1,200 total cubic metres of frozen water. Otto, whom everyone knows and loves, says "ice-making is a science. With just a touch of magic."
Switzerland is home to around 400 ice rinks, most of which are either indoors or artificial outdoor rinks. Otto manages the most used natural ice rink in Switzerland. He waters, resurfaces, shapes, and cleans the ice from the beginning of November right through to mid-February. A local newspaper once called Otto the ice whisperer. Otto is the Sisyphus of ice and snow.
Otto begins ice-making on the 10th of November each year. From this date onwards, the sun's rays barely touch the Sportplatz (sports ground) at all. Otto stands in the middle of the field, cloaked in the dark of night. He's kitted out in ski trousers, a down jacket, bright orange gloves, a hat, and winter boots. This is his uniform for watering the surface of the sports grounds, which he does with a bulky hose as well as his trusty watering can. Every once in a while, he walks around, prodding the ground pensively.
Otto ices 4,500 square metres in total. The ground that he works on consists of rubberised sports pitches and several tennis courts, in addition to concrete areas. The rubberised ground conserves heat well, so the water takes a substantial time to freeze. What's more, much of the water seeps into the clay tennis court before ice can form. It's only on the concrete areas that the water freezes quickly. Be that as it may, Otto creates layer after layer of ice, the rink beneath him thickening at around one millimetre per hour. Best case scenario, it takes Otto three weeks to get the ice ready. But often, that turns out to be wishful thinking.
Otto grew up in Sierre, in the Valais lowlands, where he learnt to skate on a frozen tributary of the Rhone. As a child, he worked on his parents' farm, caring for the poultry and the orchard. And so from a young age, he was used to working with machines, both at one with nature and battling against it, just as he does today. In 1964, Otto made the move to the Saas Valley. He played first division ice hockey for Saas-Grund and later went on to play for Saas-Fee. There, he met Vreni and decided to stay in the valley, where they eventually had their three children.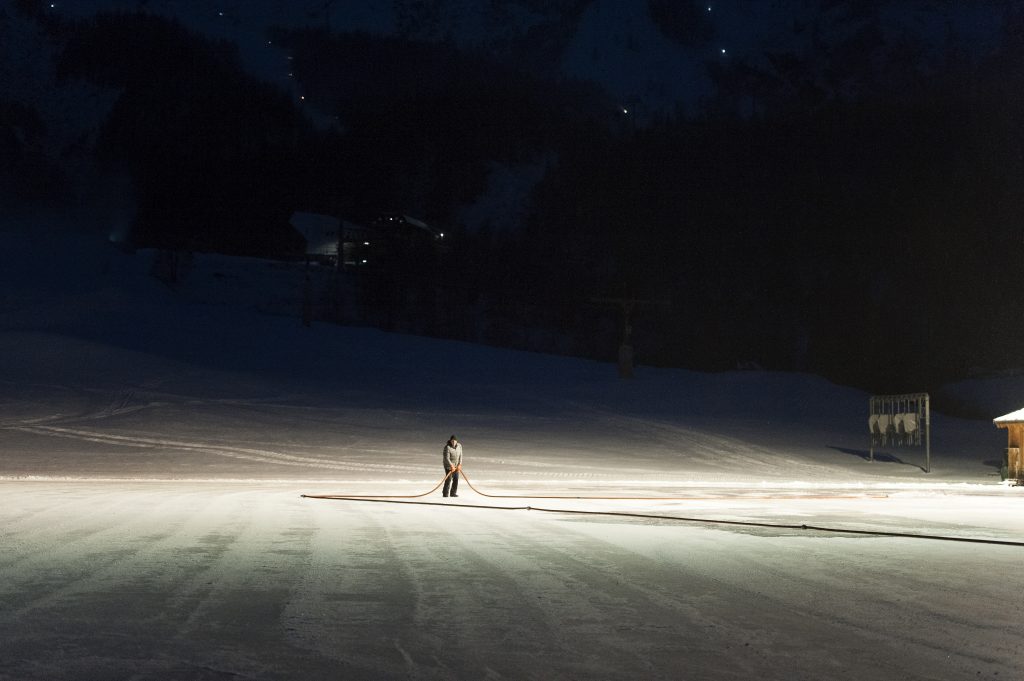 The November day which sees Saas-Fee's floodlights saturate the ice rink for the first time all year is a big one for many kids in the village. It's like Christmas, Easter, and the annual football tournament all rolled into one. Otto has been announcing the arrival of winter in this way for thirty years.
By the middle of November, the ice is usually around five centimetres deep. But all it takes is an unseasonal heatwave and that thin layer could melt in a matter of hours, leaving a puddle where an entire ice rink previously stood. If that happens, Otto is powerless to stop it.
In 1984, Otto was searching for a job when he joined the Saas-Fee piste patrol team. Even back then, he says he secretly would have preferred a caretaker role at the Sportplatz. Just a few short years later, his dream job became available. And so in November 1988, Otto found himself preparing the ice for the very first time. He experimented, failed, then tried again, learning from each failure. Soon after starting the new role, there was a seniors' ice hockey tournament. In the days leading up to the tournament, Otto had sprayed too much water on the ice. Although the ice thickened, puddles and cavities formed inside, causing the players to break through, and leaving Otto utterly ashamed.
During his first few years on the job, Otto spent the early winter sleeping on a plastic deckchair in the small cafe next to the Sportplatz, wrapped in military blankets for warmth. All this because he was getting up several times during the night to do the rounds with his watering can and shovel, sprinkling water over his growing ice field to solidify the slush. Every time he cycled through the village in the mornings, the schoolchildren would yell after him: "Otto, is the ice ready to use yet?"
After a melt, Otto must start the ice-making process all over again. So naturally it's a relief when it snows a few inches. When it does, he mounts an old snowcat roller to his blue Zamboni 440, vintage 1992. Then he drives it over the entire surface several times over, flattening the snow and compressing it like a road roller on freshly laid tar. Then he waters the snow, which in turn absorbs the water and freezes solid. Storms are usually followed by a respite in the form of several clear, cold days. But that doesn't assuage Otto's fears. If it snowed again now, he would have to clear the excess snow with a large tiller, which would inevitably break the ice. And he'd have to start over yet again.
Each winter is different. Every winter brings warm and cold patches, rain and snow, fogs and storms. If the humidity is high, the ice builds quickly. In which case, Otto smoothes it with the sharp, diagonally mounted blades of his Zamboni. When it's windy, snow blows up and sticks to the boards surrounding the rink. Otto scrapes it off with a shovel. When it gets warm, hockey goals sink into the ice. All of this means Otto must check the weather report on his mobile each and every day. At times, it drives him a little crazy. Otto thanks ice-making for keeping him young. The villagers say that he has looked the same for thirty years. His unrivalled experience has taught him that to make good ice you have to work hard, you have to have a good sense of your potential, and a good feel for the environment.
Otto uses an old fire engine hose to spray the rink with water. He has learnt the hard way that if he turns the taps on fully, he loses control; the hose bucks wildly this way and that, driven by the water pressure. Once, he had to call his friends to help. It took three of them to tame the beast.
The ice rink behaves like a glacier, constantly changing. When the temperature is close to zero degrees, the ice is soft, supple, almost silent. Hockey players can skate over it perfectly as if gliding on tracks. But when the temperature drops below minus eight degrees, the ice screeches, sticks and breaks. Fissures form in the snow, which Otto must fill with a trowel as if patching up cracks in a wall.
At the beginning of December, the ice measures 20 centimetres thick on a good day. Yet, the changing weather continues to make life complicated. Rain and slushy snowfall bringing dirt along with them. The problem is, Otto has to keep the ice clean. If dirt freezes in the ice, it will crack and become impossible to smooth. Challenges like these mean Otto sometimes spends up to 12 hours on his Zamboni, taking only short breaks. He must vary his speed to keep the machine ticking over without breaking down. Eventually, he lies down for an hour, eats a sandwich and then gets back to work, putting in another 12 hours shift. He's soaked, freezing, and miserable.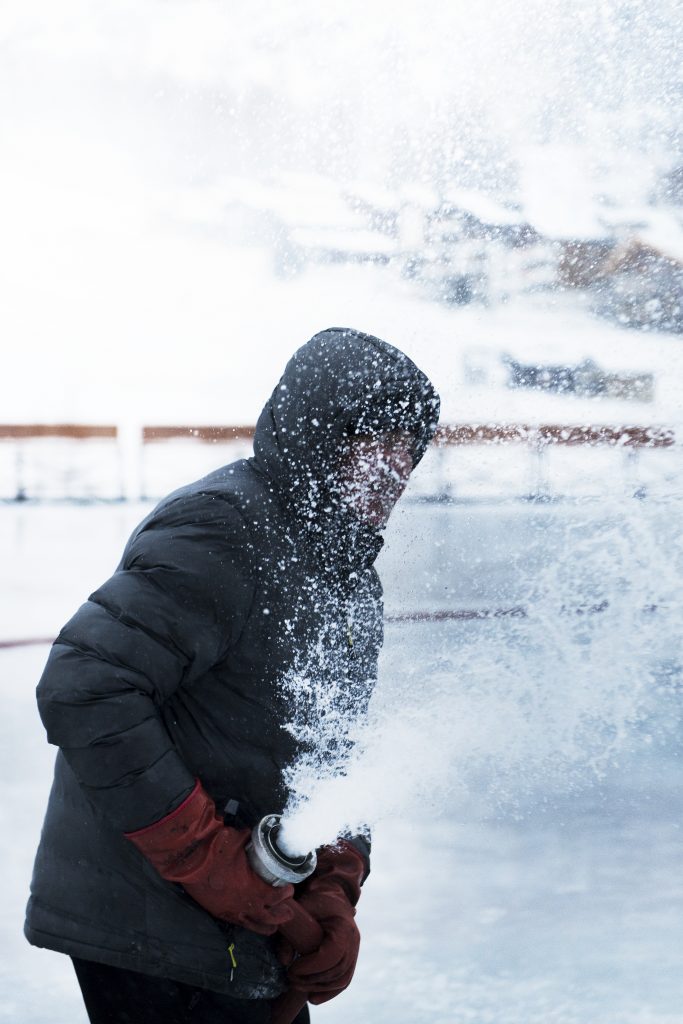 "Ice-making is a science. With just a touch of magic."
Otto was the goalie for EHC Saas-Fee for more than 20 years. When he had a game, and he couldn't find someone to stand in for him as the rink's caretaker, he would climb onto his Zamboni between periods, still wearing his heavy goalkeeper's pads and sweep the ice himself. Then he'd drink a quick cup of coffee, and dive back in the goal. He once applied for the TV Show "Wetten, dass…" (You bet!) standing in goal, dressed only in swimming trunks, blocking oncoming shots with his snow shovel. In the summers, Otto would train with his keeper's gloves on the meadows. Neighbouring children would throw potatoes and small stones to help him train his reflexes. Otto played his last game aged 59, a third division match in Verbier, and fittingly, he kept a clean sheet.
From 10th December, the sun no longer shines on the ice field at all. The Mittaghorn blocks its rays entirely and temperatures usually stay below zero. By this time, the ice is about 25 centimetres thick and when it reaches this critical level, it begins to self-regulate, keeping itself cool. In the middle of December, Otto uses natural colourings to mark out the pitch on the ice. The colour can cause its own problems, however. When it warms up, it melts into the ice, so Otto has to draw the lines, again and again, all winter long.
Otto has spent more than a thousand nights lovingly tending the ice in Saas-Fee. Ice that disappears entirely when the sun returns in February. He might be paid hourly, but sometimes he forgets to clock in, that's not the be-all and end-all for him. Though it certainly bothers him when people wonder what's so magical about ice-making.
Otto has announced his retirement several times now and cleared out his desk more than once. He'd had enough, wanted to spend the winter with his grandchildren instead. They all play ice hockey, the youngest for SC Bern. But every autumn, Otto gets the call again: "Could you help out?" He always says that if he's going to help, he might as well do the job himself. Something about the ice draws him in, though he's still not quite sure what. He says he likes the cold and the silence of the long nights; "And if I don't do it, perhaps nobody will."
A version of this article was published in the NZZ on 24th December 2018.
Photos: Nathalie Taiana